Korean Buddhist monks, nuns say conflict with Protestants 'serious'
UCAN, October 22, 2009
SEOUL, South Korea -- More than 70 percent of Buddhist monks and nuns who responded to a recent survey say that antagonism between their religion and Protestantism is a serious problem.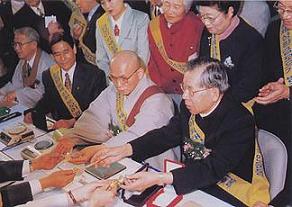 << Cardinal Kim (seated right) with other religious
leaders (Photo courtesy of Seoul archdiocese)
Many also said that Protestantism is the most influential religion in the country, followed by Catholicism and Buddhism.
The Research Institute of Buddhist Studies, run by the Jogye Order, South Korea's largest Buddhist order, surveyed 1,009 Buddhist monks and nuns from July to September this year and published the results on Oct. 19.
About 81 percent said that hostilities among religions in the country are a serious matter, with 74 percent highlighting conflict between Buddhists and Protestants.
Protestants have made a several inflammatory remarks against Buddhism in recent years.
In 2006, a mass evangelical meeting in Busan prayed that "all the Buddhist temples be demolished."
Protestant President Lee Myung-bak, then Seoul mayor, had sent a congratulatory message to the meeting. He later made an apology, saying he did not know about the prayer beforehand.
Buddhists have accused the government of discriminating against the dominant religion in the country, and last year more than 60,000 took to the streets in a show of force, demanding President Lee's apology and dismissal of some government officials.
They said police had humiliated Venerable Jikwan, the Jogye Order chief executive, in a search in front of his office, and Buddhist activists had been targeted by police unfairly.
There have been smaller grievances as when the government's transport information system omitted all Buddhist temples on its Seoul map but included even small Protestant churches.
The government has expressed regret over the incidents but there is lingering bitterness.
"With the government's expression of regret and its pledge not to allow such incident to recur, the conflict between the government and Buddhism sank from view. However, the Buddhist clergy still mistrust government officials," Seo Jae-yeong, a researcher at the institute, told UCA News.
On problems facing Korean Buddhism, 23.7 percent highlighted government discrimination while 50.1 percent said a lack of public confidence in the religion.
In the 2005 Population Census, 22.8 percent of people claimed to be Buddhists and 18.3 percent Protestants. Catholics came in third, at 10.9 percent. More than 40 percent of the 47 million South Koreans claimed no religion.
In the recent survey, when asked to name a religious leader from outside their faith whom they most respected, 124 responded with 63 naming the late Cardinal Stephen Kim Sou-hwan of Seoul and 34 choosing Blessed Teresa of Kolkata.
"Cardinal Kim maintained close relationships with other religions, especially Buddhism," said Seo. "His recent death and the subsequent attention seemed to influence them too," he said.
Cardinal Kim died on Feb. 16 at the age of 86.
"As for Mother Teresa, lots of Buddhist nuns chose her on the basis of her devotion and her practice of love in society," he said.
On the Buddhist leader they most respected, many respondents chose Venerable Wonhyo (617-686), a monk who played a vital role in developing Buddhism in the country.