Ban on Buddhist bead bracelet violated my religious freedom, Hong Kong prison guard claims
by Eddie Lee, South China Morning Post, 7 February, 2017
Court document shows officer cited Bill of Rights Ordinance and argued Sikh bangle was not likewise prohibited

Hong Kong, China -- A prison officer has claimed that the Correctional Services Department's "disapproval" of her wearing a Buddhist bead bracelet while on duty amounted to discrimination against her and violated her religious freedom, a court document showed.
In an a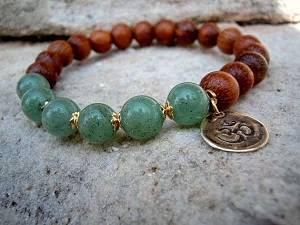 pplication for a judicial review of the limit on items allowed to be carried into penal institutions, assistant officer Wong Wai-fan argued there was discriminatory treatment in favour of Sikh Kara as staff could wear that type of bangle.
Wong, who joined the department in 1989, said she was charged with disciplinary offences after carrying into the Lai King Correctional Institution a Buddhist bracelet in October 2011. She has since been interdicted from duty.
In reply to a Post inquiry, the department said it would not comment on the case, citing ongoing legal proceedings. But the authority stressed it generally dealt with such matters in accordance with the rules.
The Buddhist bead bracelet was not on the department's list of authorised articles while a Sikh Kara was, according to Wong's submission.
The officer, described in the application as a "devoted" Buddhist, had previously written to the head of the penal institution to seek permission to wear the bracelet.
But the court document stated she had obtained only "verbal disapproval" and that the prison chief did not give any reasons.
[Wong] had never been given any reasons as to why she could not have exercised her right to freedom of religion
court document
"[Wong] had never been given any reasons as to why she could not have exercised her right to freedom of religion," it added.
The officer cited the Bill of Rights Ordinance that guarantees freedom of religion and equality before the law.
She also relied on a recent High Court ruling concerning different treatment of prisoners in her arguments against discrimination. In a judgment handed down on January 17, Mr Justice Thomas Au Hing-cheung ruled in favour of radical lawmaker "Long Hair" Leung Kwok-hung, who challenged the lawfulness of the decision and relevant orders requiring him and all male prisoners – but not female inmates – to have their hair cut while in jail.
Wong claimed the department had treated her unfairly and unlawfully by not allowing her to wear her religious article.
The claimant asked the court to declare the ban unconstitutional and suspend the disciplinary proceedings against her.
TOP