Buddhist scriptures provide a feast for researchers
By Yang Jian, Shanghai Daily, March 27, 2017
Shanghai, China -- More than 40 Buddhism experts from home and abroad began researching a batch of historic Buddhist scriptures in Shanghai over the weekend.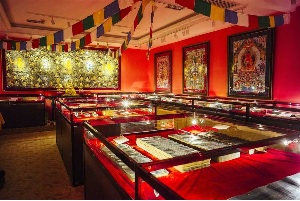 The 1,000 or so volumes of scriptures in ancient Sanskrit and Tibetan languages date back to over 1,000 years. They include over 70 volumes of rare scriptures written on leaves. A local collector Gu Qing spent three years buying and collecting the scriptures from abroad.
"Most of the documents were originally spread in China's Tibet Autonomous Region," Gu told Shanghai Daily. "They will be open to public free after thorough researches by the scholars." Gu established a research center in the Pudong New Area for experts and scholars to examine the batch of cultural relics.
Chinese Academy of Social Sciences, Tibet University and Shanghai Normal University have cooperated with the center.
Rare copies of sutras have been found among the documents, said XiReSangBu, director with the Tibetan documents research center with Tibet University. He said highlighted documents include the scriptures written on pattra leaves, gold and silver plates as well as sutras decorated with gold and gems of Qing Dynasty (1644-1911).
Pattra tree leaves, which are durable, were used before there was wide access to paper. A steel pen was used to etch the Sanskrit directly on to the leaves.
The inscribed strips contain narratives of ancient Indian literature, legal codes and classical Buddhist writings.
Some archives include the records of inhabitants living in the south Himalayas and tributes to the Tang Dynasty (618-907).
"Some of the documents appear to be Buddhist scriptures written in the ancient Newar language of Nepal. They are near extinction even in Nepal," said Surendar Bajracharya, a professor with Nepal Tribhuvan University's Central Department of Buddhist Studies.
All the documents have been digitized in photos and PDF files. Gu said all the electronic files would be open to global researchers at no charge.