Myanmar junta tightens screw on dissenters
By Aung Hla Tun, Reuters, Oct 4, 2007
YANGON, Myanmar -- Despite gradually easing its iron grip on Myanmar's main city on Thursday, the junta continued to round up scores of people and grill hundreds more arrested during last week's bloody crackdown on pro-democracy marches.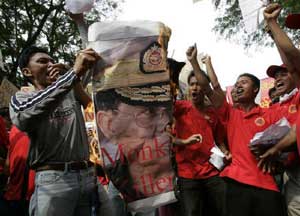 << Protestors consisting of refugees and workers from Myanmar burn a poster of junta chief Than Shwe during a protest outside Myanmar embassy in Kuala Lumpur October 4, 2007.
Although most are too terrified to talk, the monks and civilians slowly being freed from a makeshift interrogation centre in north Yangon are giving a glimpse of the mechanics of the general's dreaded internal security apparatus.
Their reports of verbal and physical abuse suggest junta chief Than Shwe is paying scant regard to the calls for restraint delivered by U.N. special envoy Ibrahim Gambari, now flying back to New York to brief his boss, Secretary-General Ban Ki-moon.
"That is one of the top concerns of the international community," said Ban, due to attend a meeting of the 15-member Security Council on Friday to discuss the crackdown in a country now under military rule for an unbroken 45 years.
People in central Yangon's Kamayut district said soldiers had arrested scores of people on Wednesday night for trying to impede a raid on the Aung Nyay Tharzi monastery a few days earlier and giving protection to fleeing Buddhist monks.
Another 70 young monks rounded up in other swoops across the city a week ago were freed overnight from a government technical institute, complementing 80 monks and 149 women believed to be nuns released on Wednesday.
One freed monk, who did not want his name revealed, said some had been beaten when they refused to answer questions about their identity, birthplace, parents and involvement in the protests, the biggest challenge to the junta in nearly 20 years.
"The food and living conditions were horrible," the monk, from Yangon's Pyinya Yamika Maha (A) monastery told Reuters.
A relative of three women released on Wednesday said detainees were being divided into four categories: passers-by, those who watched, those who clapped and those who joined in.
OUTRAGE
Gambari was to brief Ban after arriving in New York on Thursday in the midst of international outrage at the use of soldiers against peaceful columns of Buddhist monks and civilians demanding an end to decades of military rule.
Official media say 10 people were killed, including a Japanese video journalist, although Western governments say the final toll is likely to be far higher.
The body of 50-year-old Kenji Nagai, shot dead near Yangon's Sule Pagoda, returned home on Thursday for an autopsy whose results could lead to Tokyo making good on a threat to scale back economic assistance to Myanmar, one of Asia's poorest countries.
Fears of a repeat of 1988, when the army killed an estimated 3,000 people in a crackdown lasting several months, were not realised, but even China, the junta's closest ally, made a rare public call for restraint.
Like Russia, a fellow veto-wielding member of the Security Council, China ruled out supporting any U.N. sanctions against the former Burma, a source of huge reserves of natural gas and other resources coveted by Beijing.
Singapore, current chairman of the Association of South East Asian Nations (ASEAN), said it "was encouraged by the access and cooperation" given by the junta to Gambari, who saw opposition leader Aung San Suu Kyi twice during his four-day trip.
In New York, Ban said Gambari had been "assured" of another visit to Myanmar in November.
Gambari also met Singapore Prime Minister Lee Hsieng Loong on his way back to New York, although the government of the city state, one of Myanmar's biggest investors, declined to reveal all but the scantest details of their talks.
U.S. first lady Laura Bush, an outspoken supporter of human rights in Myanmar, called on the junta to resign.
"The United States believes it is time for General Than Shwe and the junta to step aside, and to make way for a unified Burma governed by legitimate leaders," she said in a letter to the U.S. Senate Foreign Relations Committee.
Her words, echoes of cries of thousands of others in the last four decades, are unlikely to have any effect on generals, who have lived with sanctions for a decade and who appear to care nothing for the cares and concerns of the outside world.
"The top leadership is so entrenched in their views that it's not going to help," said David Steinberg, a Myanmar expert at Georgetown University in Washington. "They will say they are on the road to democracy and so what do you want anyway?"