Buddhists worldwide back Myanmar's monks
By Frank Zeller, Agence France-Presse, Oct 4, 2007
BANGKOK, Thailand -- The Buddhist monks who led Myanmar's protests have drawn support from fellow believers worldwide, including Tibetan and Vietnamese spiritual leaders who are no strangers to state persecution.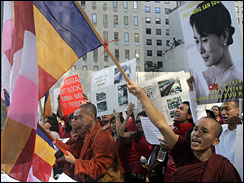 This week, as hundreds of disrobed monks could be heard chanting from inside a windowless detention centre in Yangon, Buddhist supporters in cities around the world continued their protest rallies and prayer vigils for them.
Buddhist faithful have rallied, chanted and meditated in cities worldwide for the monks, who were shot, beaten, tear-gassed and arrested last week after they started refusing alms from soldiers and marched against the regime.
Their involvement in worldly affairs during times of crisis recalls other non-violent Buddhist protests from Asia's anti-colonial struggles and acts of defiance such as the self-immolations of monks during the Vietnam war.
The Dalai Lama, the Tibetan spiritual leader in exile and the world's most prominent Buddhist, was among the first to offer his support to the tens of thousands of shaven-headed monks at the vanguard of the "saffron revolution."
"I fully support their call for freedom and democracy and take this opportunity to appeal to freedom-loving people all over the world to support such non-violent movements," the 72-year-old said in a statement.
"As a Buddhist monk, I am appealing to the members of the military regime who believe in Buddhism to act in accordance with the sacred dharma in the spirit of compassion and non-violence."
The Dalai Lama said he prayed for the early release of fellow Nobel Peace laureate Aung San Suu Kyi, the opposition leader under house arrest who has advocated non-violent resistance in line with her Buddhist beliefs.
The Dalai Lama may understand the plight of Myanmar's monks better than most -- he and thousands of his followers fled to India in 1959 after China's People's Liberation Army brutally crushed a Tibetan uprising in Lhasa.
Buddhist monks in Vietnam also have a history of political protest.
Thich Quang Duc set himself on fire on a busy Saigon street corner in 1963 to protest the repression of Buddhism by US-backed Ngo Dinh Diem's regime. Images of the event remain among the most powerful of the conflict.
More recently the banned Unified Buddhist Church of Vietnam (UBCV) ran afoul of authorities by joining protests by dispossessed farmers and lending them financial support, drawing fire from the state-controlled press.
The UBCV's deputy leader Thich Quang Do, who has won been nominated for the Nobel peace prize, has sent several messages speaking of a common struggle with Myanmar's people.
"For almost 200 years, the people of Burma and Vietnam shared the same fate under colonial rule, with repression of our faith and the dismantling of our clergy," the 79-year-old wrote from his monastery.
"Over the past decades, we have both suffered oppression under military or totalitarian dictatorships," he wrote in a letter of support. "We come together in a common aspiration for the right to life and freedom."
Do pointed out that Buddhist monks have a long history of struggle in Myanmar, formerly known as Burma.
"In the 19th century, when the British conquered Burma, they eliminated the role of the Buddhist Supreme Patriarch, dismantled the clergy and sought to destroy the Buddhist faith," he wrote.
"Monks and nuns in Burma rose up against this foreign aggression. Many were arrested and imprisoned. Many died in the British jails for their devotion to the cause of independence, freedom and Buddhism."
Buddhism is sometimes seen as a pursuit of mindfulness and spiritual enlightenment far removed from earthly matters -- but teachers such as exiled Vietnamese monk Thich Nhat Hanh have propagated an activist, engaged Buddhism.
"Buddhism is for this life, for this society," said Thai social critic Sulak Sivaraksa, author of the book "Socially Engaged Buddhism."
"If you think about the next life, that is escapism not Buddhism. Buddhism is about awakening.
"Socially engaged Buddhism is a newly coined word in English," he said. "But Buddhism is the teaching that you care for others more than you care for yourself. Every step must be taken non-violently, that is the essence."