Thai court spares founder of Dhammakaya
Bangkok Post, Aug 23, 2006
Embezzled temple assets returned
Bangkok, Thailand -- The prosecution has withdrawn an embezzlement charge against Phra Dhammachayo, former abbot of Wat Dharmakaya temple, and his close disciple following the return of the embezzled assets.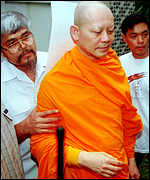 << Phra Dhammachayo
Late in 1999, the prosecution charged the former abbot, 62, and Thavorn Phromthavorn, 57, with embezzling about 36 million baht in cash belonging to the temple in Pathum Thani.
The money was used to buy two plots of land, covering over 900 rai, in tambon Nong Phra of Wang Sai Phun district in Phichit. Mr Thavorn was registered as the owner of the plots.
The entire amount embezzled stood at 959.3 million baht and the money spent on the two plots was part of it.
The abbot was also charged with distorting Buddhist teachings and causing conflicts among monks.
However, Winyu Winyakul, executive director of the office of criminal litigation, requested the withdrawal of the case in court on Monday. The request reasoned that the former abbot and his follower contributed to proper Buddhist teachings and supported religious activities involving both state and private sector projects.
In addition, he said, they had returned all the 959.3 million baht cash and land suspected of being misappropriated from the temple.
The return of assets is in line with the Supreme Patriarch's directive that monks must hand their assets generated during their monkhood to their temples.
The prosecution stated that the suit stood to create a bigger rift between the clergy and laymen had it been pursued. It felt that it would be best to withdraw the case for the sake of unity in society.
The court approved the withdrawal yesterday.
The withdrawal also effectively annuls the prosecution's investigation concerning suspected embezzlement of the temple's 930 million baht by the former abbot and his followers and suspected forgery of documents by his disciples.
Athapol Yaisawang, spokesman of the Office of the Attorney-General, said yesterday the case could be withdrawn as long as the court had not delivered a verdict.
There have been similar withdrawals of criminal lawsuits for violations of the national forest reserve act and lawsuits against rebels and terrorists, he said.
Outspoken monk Phra Phayom Kalayano, abbot of Wat Suan Kaew temple in Nonthaburi, said it is difficult to act against Wat Dharmakaya because its followers include influential and prominent people.
If the prosecution had gone all the way with the case, it could have provoked the temple's followers into violent responses, he said.
The government also used Wat Dharmakaya as the venue for a recent gathering of local administrators from across the country, the monk noted.
He said the withdrawal was not beyond his expectation. ''With the let-off, the temple may now get the impression that the law was on its side, and it could do whatever it wanted.
''From now on, if religious offenders have influential support in court, it will be difficult for them to lose the case,'' said the abbot.