Thai Islamic bank's Buddhist chief helps build trust
Reuters, Feb 17, 2007
A Buddhist from northern Thailand, Dheerasak Suwannayos, is the chairman of the Islamic Bank of Thailand, which employs the same kind of micro-financing made famous by Nobel laureate Muhammad Yunus's Grameen Bank in Bangladesh
Bangkok, Thailand -- The boss of Thailand's only dedicated Islamic bank has a unique job description: work in one of the most dangerous corners of Asia, go to mosques to drum up business and become an expert in chicken-farming.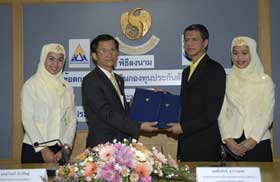 A knowledge of Islam is essential, but being a Muslim is not.
"I am a non-Muslim," Dheerasak Suwannayos, the Islamic Bank of Thailand's softly spoken chairman, told Reuters on the sidelines of an Islamic finance seminar in Singapore.
Suwannayos, 56, is a Buddhist from northern Thailand who is leading a state-backed enterprise to improve the lives of Muslims in the country's south, where poverty and unemployment have been blamed for fuelling a bloody insurgency by Muslim separatists.
More than 2,000 people have been killed in the past three years in the region, which has closer cultural and religious ties to its mainly Muslim neighbour, Malaysia, than to the rest of Thailand, a Buddhist kingdom.
Gun and bomb attacks are launched almost daily. Schools have been torched and Buddhist villagers beheaded.
Last August, two Islamic Bank of Thailand branches were bombed in simultaneous attacks on 22 banks. One bystander was killed and more than 20 wounded in the day of attacks.
Thailand's military-appointed government concedes its peace efforts are making no headway.
But the Islamic Bank of Thailand insists it is making a difference.
The bank employs the same kind of micro-financing made famous by Nobel laureate Mohammad Yunus's Grameen Bank in Bangladesh.
It lends between 20,000 and 50,000 baht ($600 to $1,500) to Muslim villagers, mostly women, who use the money to set up small businesses. They often buy a sewing machine and fabric to make clothes to sell at market, said Suwannayos.
The four-year-old bank has 50,000 customers and 100 million baht in outstanding Islamic loans in the south. It aims to expand to 300,000 customers and 500 million baht in loans there by 2008.
So how did a Buddhist end up running an Islamic bank in the middle of a Muslim insurgency?
"Five years ago, when Dr Somkid (Jatusripitak) was finance minister, he wanted me to help the Muslim people down south," said Suwannayos, formerly head of Krung Thai Bank's Islamic unit.
"I myself graduated from the University of Karachi so I am familiar with the Islamic traditions. And the old boys from the university are living down south, so I know them."
Suwannayos is based in Bangkok but markets the bank by going where many Buddhists in the south would fear to tread -- mosques.
"Normally when we go down south, we work together with the heads of religion and we organise 500 to 1,000 people in each town and we tell them what they have to do if they want micro-finance," he said. "We go to the mosque or to hotels."
He dismissed the suggestion that his government-invested bank was targeted in last year's bank bombings because it was seen as an arm of the Buddhist state. He said Muslims had embraced the bank: "We were surprised when they bombed our bank and we talked to many religious people...They were just bombing all the banks."
Before the Islamic Bank of Thailand arrived, many southern Muslims hid cash under beds, floorboards or buried it, he said.
Under Islamic or Sharia law, interest is banned.
Ultimately, though, the Islamic Bank of Thailand's ambition is to take itself to market - the Thai stock market - and raise equity to fund its expansion into a regional Islamic lender.
"We hope by the end of this year to break even and in the next two years we will list the bank on the stock exchange," Suwannayos said, adding that he planned to step down after that.
Will it be time by then to hand over to a Muslim? "It doesn't have to be," he said. "It can be anyone who can run a bank."