Thai monks pray for peace
AFP, May 17, 2010
Bangkok, Thailand -- At a monument to a conflict that took place decades ago, hundreds of Buddhist monks prayed for an end to the modern urban warfare being waged around them in the Thai capital.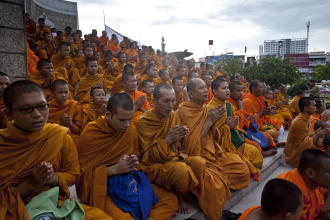 << Hundreds of Buddhist monks prayed for an end to the modern urban warfare being waged around them in the Thai capital. --PHOTO: AP
The Buddhist association that invited the monks to Bangkok's Victory Monument had a message for Prime Minister Abhisit Vejjajiva - stop the army killing "innocent people".
An emergency vehicle raced past, siren wailing, as about 400 monks clad in orange and brown robes gathered at the city landmark on the edge of the Ratchaprarop district on Sunday evening.
The district has been one of the flashpoint zones in the capital which has seen three days of clashes between troops and "Red Shirt" protesters that have left 35 people dead and 244 wounded.
Adisak Wanasin, president of the Buddhism Relation Association in Bangkok, said he invited the monks from temples in the city and surrounding provinces to ask for peace.
Halt
"We also would like to ask his Excellency the prime minister of Thailand, please consider telling all of the armed forces in Bangkok: stop killing innocent people," he said.
If troops withdraw, "we believe the situation will turn better".
Adisak, who is about 70 and attributes his healthy appearance to Buddhist meditation, said his association was independent and wanted both sides to halt the fighting.
"We are concerned about peace and the protection and promotion of Buddhism," he said of his group.
Black smoke, likely from tyres torched by demonstrators, rose about 500 metres away while white-uniformed medical rescue workers stood by the roundabout, ready for their next call into the danger zone.
From an elevated railway station - closed because of the violence - soldiers looked out over the monument where the monks sat before a statue of Buddha and chanted over a loudspeaker.
"Buddhists stop killing each other now," said a large sign hung on the cannon-encircled monument, where statues of soldiers bow their heads.
Elections
Buddhists should not kill anything, said Apiradee Peungpradat, from the Buddhist association, who blamed authorities for the violence.
A local businessman, Krishanapongsa Seangchot, said it was a "sick government". But prayers should help the peace effort, he said, wearing a Buddhist amulet around his neck, and noting that some monks have also prayed at the protesters' fortified encampment in central Bangkok.
Thai monks are banned from voting or running for office and a body of senior monks, the Supreme Sangha Council, ruled long ago that they cannot join a political rally, said an official at the Office of National Buddhism.
But since mass protests began in Bangkok in mid-March demanding immediate elections, the protests have been dotted with the monks' distinctive attire.
The Reds want an end to a government they see as elitist and undemocratic because it came to power in a 2008 parliamentary vote after a court ruling ousted elected allies of their hero, ex-premier Thaksin Shinawatra.
Asked what he thought of the Reds, Adisak said they want "equal treatment for all" but both they and the army should stop fighting.
"Oh yes," he said, as the black smoke blew closer to the roundabout.
"We would like to see Thailand as a whole, peaceful country, everybody smiling. Like we had the old saying: 'Thailand is the land of smiles.' But now some people cannot smile," he said with a big, infectious grin.
As the sun set, ushering in another dangerous night in Ratchaprarop, the chanting for peace continued.