Buddha images stolen in Laos
AFP, March 10, 2009
Images of the Buddha are considered sacred in Laos. So who's stealing them?
BANGKOK, Thailand -- Lao officials are expected to meet later this month to discuss how to address the theft of numerous sacred Buddhist artifacts from temples in the south of the country.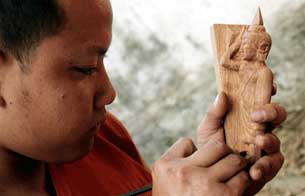 << LUANG PRABANG, Laos: Lao monk displays a wooden carving of a Buddha, Feb. 21, 2007.
More than 200 Buddha statues were stolen over the last year from temples in the southern Lao province of Savannakhet for sale to collectors both inside the country and abroad, according to the deputy head of the Lao Ministry of Information and Culture, Khampong.
Officials now withhold information on new discoveries of ancient artifacts because they fear more thefts, he said. And while the value of the stolen statues is unknown, several are more than 100 years old and all are considered sacred.
"Several reprobates have stolen around 200 Buddha statues from five temples in the countryside of Savannakhet from September 2008 to February this year," Khampong said.
He said officials would meet at the end of March to discuss how to look after the historic Buddhist sculptures.
Khampong said he believes the thieves are young drug addicts targeting temples in remote villages including Dong Dock Mai in Champone district and Nakhu in Uthumpone district.
"Police have been investigating, but so far they haven't made any arrests," he said.
Khampong said the thefts have hurt the people of tiny, landlocked Laos—one of the world's poorest countries and overwhelmingly Buddhist—because of the significance of the artifacts to the country's religious heritage.
Mark Pratt, a retired U.S. diplomat who served in Laos during the 1960s and 70s, said foreigners could be creating demand for the artifacts.
"Foreigners … in Laos would certainly be susceptible if someone [selling artifacts] came around and banged on their door," Pratt said. "Most likely these are persons working on behalf of people outside who can get the stuff [sold] on elsewhere in the world."
Religious heritage
Justin McDaniel, a professor of Buddhist Studies at the University of California-Riverside, said Buddhist images preserve important community memories.
"Generally, images are [passed down] in a lineage … Whoever made the image usually took material from an older image to make it," McDaniel said. "All images are connected in a lineage going supposedly back to the Buddha, and ultimately far back in community memory."
McDaniel said images must be spiritually charged before they can be housed in a local temple.
"Usually they have amulets—some sort of relic like the bone, hair, or fingernail of a famous local monk, or a jewel placed in the base of the image, buried inside … that gives a kind of spiritual battery to the image as well," he said.
Buddhist images also provide an identity for individual temples, often giving the temple its name.
"It's not just called a Buddha … It almost seems as if the temple is built around the image, not that the temple is there and the image is put into it," McDaniel said.
Thriving trade
The trade in Buddhist artifacts thrives in the markets of Southeast Asia—from Bangkok's River City district to the high-end boutiques of Hong Kong and Singapore—making the theft of such items extremely lucrative.
"The problem is not what they're selling. The problem is what people are buying. There generally needs to be a broader education about this issue," McDaniel said. "If you see a beautiful image in an antique store, no matter what they tell you, there is a very good chance that it was stolen."
"Prior to [the communists], practically nobody dared to do any trafficking in anything Buddhist because it was such a firmly believing Buddhist society. For example, when things were dug up … [they] were immediately taken to the nearest wat [temple] and protected," Pratt said.
"In general there has been a tradition in Laos of not having anybody be able to deal in Buddhist art," he said.
The draw of money from the art market in Thailand, often a staging point for artifacts on their way to collectors in the West, is strong enough to attract would-be thieves regardless of concerns about desecrating religious sites, Pratt said.
"Whether it's drugs or not, I don't imagine that it's terribly important compared to the commercial interest which they would have in Thailand … I think that it's the monetary aspect that people are becoming aware of."
"And people, even in Laos, need money."
-------------------------
Original reporting by Noppawee Chamnanpai for RFA's Lao service in Bangkok and by Joshua Lipes in Washington. Director: Viengsay Luangkhot. Written for the Web in English by Joshua Lipes. Edited by Sarah Jackson-Han.
TOP