Vinh Nghiem Pagoda, an architectural masterpiece of Ho Chi Minh City
by Diem Thu, Thanh Nien News, Dec 15, 2007
Ho Chi Minh City, Vietnam -- Vinh Nghiem Pagoda in Ho Chi Minh City is one of the largest pagodas in Vietnam. It covers an area of 6,000 square meters and was constructed between 1964 and 1971 under the design guidelines of Vietnamese architect, Nguyen Ba Lang.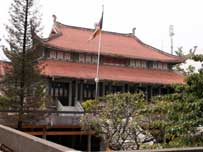 << A view from the side of Vinh Nghiem Pagoda
Two Vietnamese monks, Thich Tam Giac and Thich Thanh Kiem, originally conceptualized the idea of building a large Buddhist center in Southern Vietnam.
They had come to Saigon, present-day HCMC, from the north in 1964 to spread Buddhism and visualized a temple of worship that could be made from long-lasting concrete instead of traditional wood.
The monks modified a version of wooden Vinh Nghiem Pagoda in Bac Giang Province which was built during the Ly Dynasty (1010-1225).
The newly-built pagoda thus became the first in Southern Vietnam to have similar architecture of the old Vinh Nghiem Pagoda, but with concrete as its main building material.
The pagoda has since become a popular place of worship for Buddhists, especially on the first and fifteenth of the lunar months.
In addition, thanks to its peaceful atmosphere and unique and beautiful architecture, great numbers of tourists come to relax daily and learn about Vietnamese Buddhism and architecture.
During religious holidays however, the pagoda transforms from a sanctuary of tranquility, into a packed and bustling hub of activity.
Like many other structures in Vietnam, the architectural style and layout of Vinh Nghiem Pagoda was influenced by other Asian cultures.
There is a spacious courtyard in front of the building and the walls are decorated with scrolls of Jataka Tales.
A large bell inside the temple was given to the Vietnamese by Japanese Buddhists during wartime to symbolize prayers for peace.
In addition to the main sanctuary, there is also the seven-storey, Japanese-influenced Kwan-Yin Tower.
It is located to the left of the pagoda and was built with the assistance of the Japan-Vietnam Friendship Association.
Another tower of the pagoda stands 25 meters high.
This strange-looking tower with a curved roof holds jars containing the remains of Buddhists who have passed away.
Vinh Nghiem Pagoda is also a campus of the HCMC University of Buddhism, where classes are held each week.
In 2003, another 14-meter tower of the pagoda was recognized by architects and arts researchers as having the highest density of elaborated carvings among such towers in Vietnam.
It is also the tallest in the nation and the first of its kind in the south to have been built by craftsmen all under the age of 30.
One pair of large dragons, and 27 pairs of small dragons and phoenixes also appear on the walls of the pagoda's towers.
Countless lotuses, bodhi leaves, waves, bats and mantras are all intricately inscribed on the walls.