Followers pay last respects to outlawed Vietnamese Buddhist monk
DPA , Jul 7, 2008
Hanoi, Vietnam -- Followers of an outlawed Buddhist group in Vietnam were permitted to pay their respects on Monday to their former leader who died over the weekend while under house arrest, according to Vietnamese authorities.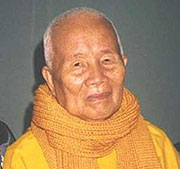 Members of the Unified Buddhist Church of Vietnam were allowed to enter the Nguyen Thieu Monastery in Tuy Phuoc since Monday morning.
The Most Venerable Thich Huyen Quang had been under house arrest since 2003 after he and his deputy Thich Quang Do, 79, attempted to hold a nationwide congress of the sect's monks.
Quang's funeral began Monday at the monastery where he died on Saturday at 87 years old. The official ceremony is planned for Friday, according to Binh Dinh provincial chairman Vu Hoang Ha.
Quang was treated at the provincial general hospital but returned to the monastery on Friday, and died one day later due to major organ failure.
Thich Huyen Quang was born in 1920 in An Nhon district, Binh Dinh province. The International Buddhist Information Bureau noted that he was one of Vietnam's most loved and respected spiritual leaders.
"He was also a determined opponent of tyranny in all its forms," the bureau said in a statement.
"For his uncompromising determination to stand firm, he paid a high price, spending over half his life in prison, internal exile or under house arrest under a succession of political regimes."
Quang was the fourth Supreme Patriarch of the outlawed sect, a spiritual movement that grew out of Buddhist groups that were active in the former South Vietnam before it was defeated and reunified with North Vietnam in 1975.
The Vietnamese government does not recognize the sect because its members refuse to accept government control over their affairs.
TOP