Con Son Mountain views
VNR, Dec 7, 2008
Hai Duong, Vietnam -- The Zen spirit and fairytale setting of Con Son mountain in the northern province of Hai Duong leaves Duc Hanh in a happy daze.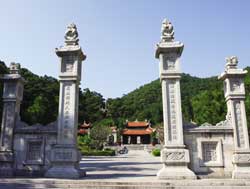 Con Son is also known as Ky Lan mountain, which means unicorn in Vietnamese, and I feel as though I am entering a fairytale as I wander down a path lined with pine trees towards Con Son pagoda at the foot of the mountain. There is a peaceful and meditative atmosphere.
There is no hustle and bustle from eager tourists, food vendors or souvenir sellers, which you often find at cultural and spiritual sites in Vietnam Built in 1304, Con Son Pagoda was one of the three centres of the Buddhist Truc Lam Trinity under the Tran Dynasty (1225-1400). The pagoda was extended in 1329 and underwent several restorations during the 17th and 18th centuries and over the last few decades.
In the front yard there's an enormous tree which is said to be more than 600 years old. The story goes that the seed was planted by Tran Nguyen Dan, a talented poet and Confucian scholar, who served as Great Prime Minister under the Tran dynasty in 14th century. The pagoda features 385 Buddha statues with unique faces, the like I have never seen in any pagoda before.
"Some statues here were created according to the portrait of famous monks and mandarins," says the Buddhist nun, Tue Tam. "The main hall is dedicated to Buddhist statues. The left hall features a statue of a Holy Monk, modelled on the monk Huyen Quang, one of the founders of Truc Lam Zen Buddhism. And in the right hall you will find the Royal Highness with the face and form of Tran Nguyen Dan."
Following the nun into the pagoda, I find a number of small statues said to be of Tran Nguyen Dan's grandson, Nguyen Trai, also a famous poet and politician, and his concubine Nguyen Thi Lo. Behind the pagoda, a set of stone steps lead to an ancient tower and garden where you can find a statue of Monk Huyen Quang, and a well, full of crystal clear water, which is flanked by two half-lion and half-crocodile creatures.
The well is named Gieng Ngoc (Pearl well) and is considered to be the eye of the unicorn. Legend has it that on the full moon night of the seventh lunar month, the monk Huyen Quang was sleeping in his room at Con Son Pagoda when he dreamt of seeing a shiny pearl on the side of the mountain.
The next morning he went to the mountain and found a well containing fresh water. When the monk returned to the pagoda, he held a ceremony to thank the deities for this precious source of water. Since then, the well's water has been used for rituals at the pagoda. Further up the mountain is where Nguyen Trai spent his childhood with his grandfather Tran Nguyen Dan and where he returned to spend the last of his days.
The mountain is much higher than I imagined. Climbing 900 stone steps to the peak where there's a fairy chessboard and a small temple called Bach Van (White Cloud). This is where Nguyen Trai and Tran Nguyen Dan sat to play chess though the exact point they sat is now covered with a cement pavilion. Traders have also made the hike to the top to sell drinks and snacks.
But despite the imperfect buildings at the top, the view is spectacular. At noon, the sun is brilliant, the wind is bracing. In the sweeping panorama I can see mountain ranges, Luc Dau river and the green paddy fields of Bac Giang, Quang Ninh and Hai Duong provinces.
I descend the mountain to Thanh Hu Temple which is dedicated to Tran Nguyen Dan. Down below there's another temple dedicated to Nguyen Trai and his concubine Nguyen Thi Lo. Here I learn how Nguyen Trai was born in Nhi Khe Village. His father was Nguyen Phi Khanh, a mandarin under the Ho Dynasty. At the age of 20, Nguyen Trai graduated as a doctor and served in the Ho Dynasty like his father.
After the Chinese Ming dynasty invaded and seized control of north Vietnam, Nguyen Trai was kept under surveillance in Dong Quan, Thang Long Citadel (present-day Hanoi) for 10 years. When Le Loi led a revolt against the Ming in 1418, Nguyen Trai escaped from confinement, joined the liberation army, and became Le Loi's closest adviser and the primary strategist in Le Loi's victory over the Chinese in 1428.
Many letters and pronouncements written by him and sent in Le Loi's name to the Ming generals have been preserved in "Quoc Trung Tu Menh Tap" (Letters and commands from the time of military service). His best known poem, written in Sino-Vietnamese, is Binh Ngo Dai Cao (On Defeating the Wu) which would become Vietnam's declaration of independence.
With his clever propaganda and profound writings, he greatly contributed to making Le Loi a hero of his time. After the victory in 1428, Nguyen Trai served the new emperor as a high-ranking official in the bureaucracy. He retired after the death of Le Thai To and the accession of Le Thai Tong and returned to Con Son where he lived a simple life.
Nguyen Trai's concubine Nguyen Thi Lo was a beautiful talented woman, whom King Le Thai Tong was very fond of. In 1442, King Le Thai Tong came to Con Son to visit Nguyen Trai's family. A day later the King died mysteriously and Nguyen Thi Lo was accused of regicide. Nguyen Trai was executed along with his entire family.
Twenty years later, however, King Le Thanh Tong announced Nguyen Trai was innocent and ordered that all works of this great poet and politician were to be collected and preserved. In modern times, accolades continue as in 1985, Unesco recognised Nguyen Trai as a 'World Great Man of Culture'.
Sitting at his temple with the scent of frankincense floating in the air, looking around at the natural beauty, I am enraptured by the feeling of purity around me. It is with a tinge of sadness that I walk away and drive back to the city. Getting there: Con Son is in Cong Hoa commune, Chi Linh district, Hai Duong Province, over 70 km northeast of Hanoi.
From the city centre, cross Chuong Duong bridge, then turn right onto National Road No.5, then turn left onto National road No. 1 and drive for 30km before turning right onto National Road No.18. Go straight, past Pha Lai Thermal Power Plant to Sao Do Town and turn left onto National Road No.37. Drive for 8km and you'll find the Con Son complex of relics! You can't miss it!