Vietnam Buddhist case shows suppression: watchdog
By Ian Timberlake, AFP, Oct 19, 2009
HANOI, Vietnam -- The forced expulsion of more than 300 followers of one of the world's most influential Buddhists highlights Vietnam's suppression of religious freedom, Human Rights Watch said Monday.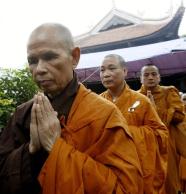 << Zen Buddhist monk leader Thich Nhat Hanh (front) prays at a requiem for Vietnam War victims near Hanoi
"The government views many religious groups, particularly popular ones that it fears it can't control, as a challenge to the Communist Party's authority," said Elaine Pearson, deputy Asia director of the US-based watchdog.
It said that late last month more than 100 "thugs and undercover police" armed with sticks and hammers broke down doors at the Bat Nha monastery and forcefully evicted 150 monks who follow Thich Nhat Hanh.
Nhat Hanh is a French-based Zen monk and peace activist who was a confidant of slain US civil rights leader Martin Luther King.
A day after the monks were evicted, according to a Human Rights Watch statement, more than 200 nuns were forced out of Bat Nha and joined the monks in a temporary refuge at a nearby pagoda.
Earlier this month Nhat Hanh, on a visit to the United States, said authorities had also surrounded the pagoda in Vietnam's Central Highlands.
Follower Nguyen Phuoc Loc, reached Monday in the area, told AFP there had been no further incidents "especially since a visit by a mission from the US embassy".
The government says local authorities "tried to maintain law and order to avoid clashes" and described the matter as an internal dispute between Nhat Hanh's followers and those of the top monk at Bat Nha, Thich Duc Nghi.
Duc Nghi belongs to the official Vietnamese Buddhist Church.
The communist government says followers of the French-based monk organised religious courses without permission and failed to register their temporary residence at the Bat Nha monastery.
But Human Rights Watch said the ousting of Nhat Hanh's followers was "clearly linked to his call for religious reforms".
Last week the US embassy in Hanoi said expulsion of the monks and nuns from Bat Nha is among recent action which "contradict Vietnam's own commitment to internationally accepted standards of human rights and the rule of law".
Vietnam says it always respects the right to democratic liberties and freedom of belief and religion.
All religious activity is subject to state control and Human Rights Watch said adherents of some religious groups that are not officially recognised are persecuted.
It said followers of the Cao Dai faith and adherents of Hoa Hao Buddhism are among hundreds of people imprisoned for their religious or political beliefs, or both.
In the mid-1960s the then-South Vietnamese regime forced Nhat Hanh into exile but he returned to visit his unified homeland in 2005 and 2007.
Human Rights Watch said his first homecoming came as Vietnam sought to present "a less repressive" religious stance in hopes of getting removed from a US list of countries violating religious freedom.
It was removed in November 2006 and admitted to the World Trade Organisation (WTO) the following year.
A foreign diplomat told AFP Vietnam's human rights situation was improving prior to 2007, "before they got what they wanted" -- WTO membership and the hosting in 2006 of the Asia Pacific Economic Cooperation forum summit.
Since then, the overall rights situation has worsened, said the diplomat.
Loc, the follower at the scene, said about 250 of Nhat Hanh's adherents remain at their temporary refuge in Phuoc Loc pagoda, while more than 70 others are elsewhere in the region or training in Thailand.
TOP