Buddhist women discuss role in tackling global problems
VNS, Dec 28, 2009
Ho Chi Minh City, Vietnam -- The role of Buddhist women in tackling emerging global issues is being discussed during a one-week international conference that opened yesterday in HCM City.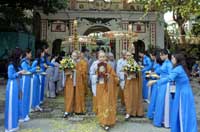 << Ceremony welcomes domestic and international Buddhist women to the 11th international conference held in HCM City yesterday. — VNA/VNS Photo The Anh
The 11th Sakyadhita International Conference on Buddhist Women has gathered more than 4,000 Buddhist women from 47 countries and territories in the world. The event will also encourage increased participation of Buddhist women in all aspects of life.
Vice President Nguyen Thi Doan attended the conference and read a letter sent by President Nguyen Minh Triet.
In his letter, Triet emphasised Viet Nam's respect for freedom of religious belief and expressed his wish that Vietnamese Buddhist women together with the world's Buddhist followers play an active role in preventing conflicts and alleviating poverty and suffering.
Participants at the conference will share experiences in their social welfare activities as well as knowledge on meditation and Buddhist theology.
"Sharing will help boost relations based on harmonisation, the exchange of Buddhism traditions among countries, the development of Buddhism and the fostering of peace for humanity," said Karma Lekshe Tsomo, president of the Sakyadhita International Association of Buddhist Women.
Meanwhile, chairwoman of Viet Nam's Women Union Nguyen Thi Thanh Hoa said that she wished Viet Nam's Buddhist women would continue to work with women organisations and unions to contribute more to the community.
Viet Nam's representatives, chief nuns Thich Nu Tinh, Thich Nu Nhu Minh, Thich Nu Hue and Doctor Tran Hong Lien, delivered their presentations at the conference, which highlighted the role of outstanding nuns in the history of Buddhism.
Environmental destruction, woman and child trafficking, domestic violence, social and moral issues and the victims of Agent Orange will be high on the conference's agenda. Effective solutions basing on a respect for customs, tradition and the laws of each country will also be discussed.