Muslims and Buddhists show they care for young students
The Star, December 24, 2014
KUALA LUMPUR, Malaysia -- Muslims and Buddhists produced a shining example of inter-faith cooperation when they joined hands in a presentation ceremony for Educare 2014, an annual charitable project by Siri Jayanti Association and Maha Karuna Foundation.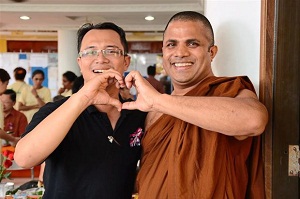 << Love all around: Halim and Ven Siri Wimala showing some love during the Educare programme at the Sri Lanka Buddhist Temple in Sentul.
The event at the Sri Lanka Buddhist Temple in Sentul, received a ringing endorsement from Ustaz Halim Hafidz, a popular Muslim orator and entrepreneur, who joined the temple's chief monk Rev B. Sri Saranankara Nayaka Maha Thera at the event which saw more than 1,400 needy students from all races receive school bags and other schooling essentials.
Ustaz Halim acknowledged that the programme was a good one.
"Islam encourages its people to respect other religions. Our Prophet Muhammad taught us not to force other people to be Muslim, but they have a choice to follow what they believe in," said Ustaz Halim, who added that his presence at the Buddhist temple was to prove that Islam accepted other religions and cultures.
"I wanted to set a good example as a Muslim, and at the same time demonstrate we can collaborate with other religions to conduct programmes," he said.
Rev Saranankara observed that there was a healthy degree of tolerance in Malaysia, compared to other countries.
"Maybe one or two incidents have blighted our reputation, but perhaps it could be due to the media highlighting or amplifying the 'tiny fringe voices' of the extremists.
"Lots of moderates do a good job and they organise programmes that help the society. To me, this should be highlighted, not those fringe extremist views," said Rev Saranankara, who expressed happiness at seeing the multicultural and multireligious crowd during the annual event that was its 14th.
"Everyone looked happy that day, hence you can see such beautiful pictures, especially the one with Halim and Venerable Siri Wimala (chairman of EduCare)," said Rev Saranankara.
Among the partners of EduCare this year are Malaysia Airlines' Welkins (a voluntary body consisting of MAS personnel), Yayasan Rakyat 1Malaysia, Parkson and iM4U.
iM4U chief operating officer Azlan Rudy Malik said they were proud to be a part of the initiative.
TOP