Dalai Lama's office disapproves Singapore Expo on "Buddhist Relics"
The Buddhist Channel, December 4, 2006
Relics Expo organizer "Gelugpa Buddhist Association Singapore" not recognized by HH Dalai Lama
Singapore -- The office of His Holiness the Dalai Lama have expressed its concern about the so-named "The Buddha and His Principal Disciples' Relics Grand Cultural World Exhibition", from December 9 to 17, 2006 at the Singapore Expo, hosted by the the "Gelugpa Buddhist Association Singapore".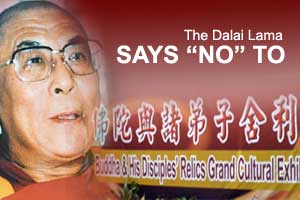 Statement from HH office also states that the organizing party of the expo - although branding itself as a Gelugpa centre, is not recognized as such by HH the Dalai Lama nor HH the Ganden Trisur Rinpoche (the Official Head Emeritus of the Gelugpa Tradition). Therefore, labelling of itself as a "Gelugpa" centre is inaccurate and misleading.
The Dalai Lama's office further clarifies that its position is clear and consistent with regard to the worship of "dolgyal-shugden" which it strongly considers as "worship of the unenlightened evil spirit".
The statement further elaborates that students of the Dharma who continue to rely upon a worldly spirit such as dolgyal-shugden actually contradicts the Buddha's own advice against taking refuge in samsaric spirits.
By participating in events related to the practice of this worldly spirit, one effectively "breaks" one's Refuge Vows and will effectively become a Non-Buddhist, negating the source and root of all Dharmic practices, the statement continues.
In a separate announcement, the Charitable Assistance Society (CAS) of Thousand-Arm Chenrezig have on behalf of the Tibetan Buddhist community in Singapore urged all to adhere to the HH Dalai Lama's office advisory.
The CAS statement further urged Tibetan Buddhist practitioners to "....inform all other unknowing Buddhists, that, according to the Buddha's holy Teachings as preserved in every tradition and lineage as well as His Holiness the Dalai Lama's advice, taking refuge in wordly-spirit, in this context, this programme's uncompromising stand of practising and taking refuge in dulgyal-shugden, effectively contravenes one's Refuge in the Buddha, Dharma and Sangha."
The CAS also said the organizing party have failed to clarify or justify the authenticity of the source of their claimed "relics", most of which, presented as plasticine-looking coloured balls. "The organization too claimed many of their "relics" as being originated from Lord Buddha's blood, bones, saliva and other bodily parts," the statement concluded.