Authenticity of Buddha tooth relic still subject of discussion
Channel News Asia, July 22, 2007
Singapore -- Some people are still questioning the authenticity of the Buddha tooth relic housed in a temple along South Bridge Road. The relic is stored in a stupa on the fourth floor of the Buddha Tooth Relic Temple.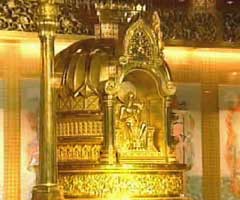 << "Buddha Relic": Is there or is there not?
No one is allowed to enter the chamber, but one can see the stupa from the outside.
The stupa was built using 420 kilograms of gold, donated by devotees who can only visit the tooth relic twice a year - the first day of the Lunar New Year and Vesak Day.
The only other way to see the tooth relic is through brochures, which could be why people are made more curious about its authenticity.
However, some experts have reportedly questioned whether the tooth is from the Buddha himself.
Renowned artist Tan Swie Hian had done some research on Buddhism and believes it teaches the pursuit of truth.
He said: "I don't mind praying to a buffalo's tooth provided I'm told it is one. Let me get it right before my prayer. The Buddha's teaching is all about seeing things as they are and this is nothing to do with Buddhism or faith. It is a claim that can be easily, conclusively proven by science."
The founder of Nei Xue Tang, a Buddhist art museum, said he had received similar-looking tooth relics when he visited Myanmar previously.
Woon Wee Teng said: "Many monks gave them to me. They told me these teeth are quite similar to the one in the Buddha Tooth Relic Temple. They told me to bring them home to Singapore and put in the museum to display. Of course, I'm very careful. I must do due diligence. What I did was to take them back, check with the vet......dentists - they're all forensics. They confirmed that these are non-human, herbivore's teeth. So I make a decision to not display them."
Mr Woon added that if a temple has the Buddha tooth, then, as a public institution, it has the responsibility to prove its authenticity.
The responsibility is even greater if the temple is collecting public money, he said.
Ong Kim Dee, a donor, agreed: "Since we've donated the money, we need to know the truth."
"The Reverend Fa Zhou has to come out to speak the truth. You cannot simply brush it off and say, 'if you think it's real, it's real'. It's not correct," said Liau Ming Ong, another donor.
"We mustn't be seen by the outside world, internationally that we can't tell the difference between a horse's tooth and a human tooth. That would be a disaster....an embarrassment. I think they (Buddha Tooth Relic Temple) should get it right and since it's so clear that it's a herbivore's tooth, then they must rectify it," said Mr Woon.
And, verifying the authenticity of all displays is something the Asian Civilisations Museum takes seriously.
Tan Huism, Deputy Director of Asian Civilisation Museum's Curation and Collections, said: "We would look at the pieces and see how they compare with similar pieces from other museums. Of course, you could also do a scientific testing."
When contacted, the Buddha Tooth Relic Temple's monk, who was overseas, said he was unable to comment.
But within the temple grounds, there are many notices explaining its position on the tooth relic.
It said the suggestion of DNA testing, while simple, is a practical challenge to conduct.
It added that DNA testing is also invasive and that it is unlikely that any Buddhist temple and their devotees would agree to such a test on what they believe to be the Buddha's tooth.
TOP