Singapore's Buddha Tooth Relic: Some call for proof, others say it's not necessary
By Tan Dawn Wei, The Straits Times, July 22, 2007
Sunday Times readers upset after report cast doubt on Buddha tooth relic's authenticity
Singapore -- The Sunday Times received 20 letters from readers after it reported last week that doubts have been cast on the authenticity of the Buddha tooth relic in a temple here.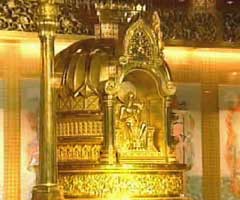 Dental specialists had said that they believed the tooth, said to have been found in Myanmar and given to the temple, belonged to a herbivorous animal.
At least 16 letter-writers were upset.
One of them was private tutor Brandon Lee, 35. He had sponsored more than $4,000 worth of statues and tiles in the new temple at Chinatown, and now says: "I never doubted them. But think about it... if Myanmar had a real tooth, the discovery would have made big news."
Readers suggested that the temple should let dental experts examine the tooth. They said that with so much donated to the temple's construction, there should be some transparency.
More than 60,000 donors have given the temple $45 million and 270kg of gold. The gold was later melted and rebuilt into a 3.6m-high stupa to house the tooth relic.
The Venerable Shi Fazhao is not in Singapore and hence unable to respond to queries, said temple aides. But he had earlier ruled out conducting DNA tests on the tooth.
The temple also took out advertisements in The Straits Times, Lianhe Zaobao and Shin Min Daily News last week in which he said: "We should stand firm on our own faith towards the sacred relics."
Besides the tooth relic, the temple will also house a museum exhibiting Buddhist artefacts.
The relic itself is said to have been discovered by a Myanmar monk, the late Venerable Cakkapala of Bandula Monastery, in 1980, when he was restoring a collapsed stupa in Mrauk-U, Myanmar.
In a commentary published in Lianhe Zaobao on Monday, columnist Goh Choon Kang said that while it is important for those who doubt the authenticity of the tooth to have their say, there is no need to get to the bottom of the authenticity issue.
He said that believers will believe and those who don't believe, won't.
What is important is for Buddhism to meet the challenge of remaining relevant to society; not this quibbling over what is real and what is not.
Professor John Strong, an authority on Buddhist studies and author of Relics Of The Buddha, said the issue of historical authenticity of Buddha relics "is pretty much an impossible one to resolve."
However, citing the Buddhist belief that relics are "alive" and can multiply, he said: "I have no doubt that the Singapore relic is religiously authentic."
Indeed, one debate on online forums such as Stomp is whether scientific authenticity even matters in matters of faith. Some say the relic should not be judged scientifically. "The whole premise of faith is that you must believe -- you don't ask if it's real," said Mr Toh Puay Yong, a 42-year-old accountant.
TOP