Karmapa reviving use of Sanskrit in spiritual order
IANS, December 25, 2011
New Delhi, India -- The 17th Karmapa of the Karma Kagyu sect of Tibetan Buddhism, Ogyen Trinley Dorje is spearheading the revival of Sanskrit - the language in which several early Buddhist texts had been composed in India before the religion spread to Tibet.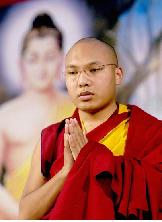 The Karmapa, who heads the Karma Kagyu school of Buddhism in India, has instituted a practice of opening his morning prayers with chanting of Sanskrit shlokas.
"In 2010, the 17th Karmapa began a search for the original Sanskrit texts of dohas (sacred couplets) composed by the great Indian `mahasiddhas` whose dharma teachings and meditation practices are transmitted today in the Karma Kagyu lineage," documents provided by the Karmapa`s office said.
"After locating two rare texts, his holiness commissioned south Indian music scholar R.S. Nanda Kumar, who is reviving India`s ancient musical heritage, to set the verses to music following traditional doha song forms as faithfully as possible."
The results of these efforts were "two dohas which were performed by Nanda Kumar".
While one was a song of realisation by Saraha, the `mahamudra` master whose lineage the Karmapa transmit, the other was by Tilopa - another great `mahasiddha` in the Karma Kagyu lineage.
"In the course of our research, we have found that a form of music, `charya geeti`, which originated from eastern India, had direct links with Buddhism. It had travelled all the way down south from the Magadha kingdom," composer and vocalist Nanda Kumar told IANS.
Most of these early traditional songs were composed in Sanskrit.
"In the eighth century, `dwipadi` and `dwipathaka` - two other forms of spiritual songs - were also sung. They were similar to doha," Nanda Kumar said.
However, `dohas` are different from `charya geeti`, he said.
According to history, the Buddhist songs of realisation were sung poetry in various forms like the performance songs (charya geeti), diamond songs (vajragiti) and doha songs (couplets). The doha songs are primarily spiritual aphorisms expressed in the form of rhyme or couplets, `charya geeti` were stand-alone songs while `vajragiti` are essentially tantric.