Buddhist Monk Leaves Footprints Embedded in the Floor
By Tudor Vieru, Science Editor, Feb 27, 2009
He prays numerous times each day
Tongren, China -- For some 20 years now, Buddhist monk Hua Chi has been praying in the same spot in the temple he lives in. Over so many years, the soles of his feet have become perfectly ingrained in the wood of the floor, and have now reached a depth of 1.2 inches in some places.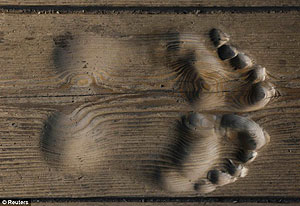 << Ven. Hua Chi has prayed so often his footprints have become embedded in the wood
The monk is so devoted that he does anywhere between 500 and 1,000 prayers each day, hoping that this will ensure him a "smooth" transition to the other world, once he dies.
The Rongwo Gonchen Gompa Tibetan monastery is located in the town of Tongren, in the Qinghai province of China, and is considered to be the largest such edifice in the country.
Literally, hundreds of students walk the paths of the monastery housing the temple, and they have all noticed Chi's commitment to his prayers. The monk himself admits that he used to perform a lot more prayers when he was younger. The 70 year-old says that, on an average day, he even reached 3,000 prayers, which is very much, even judging by Buddhist standards.
Because he always uses the same place to pray, the very soles of his feet have become embedded in the floor, in what looks like a homage to that many years of uninterrupted belief.
Every day before sunrise, he arrives at the temple steps, places his feet in his footprints and bends down to pray a few thousand times before walking around the temple.
Afterwards, he walks around the temple until the time comes for other prayers. According to Buddhist dogma, one has to live life in a state of meditation and contemplation, so that, after death, he or she could achieve Nirvana, the state of eternal bliss.
"During the first years I would pray 2,000 to 3,000 times a day. But I have grown older, so in recent years I have only done around 1,000 each day. I reconstructed this temple and have prayed and walked around the temple all these times so that after my death my spirit will not suffer," Chi has recently revealed in an interview.
He is also a doctor in traditional medicine, because he likes doing good and making people feel better without intrusive methods of therapy.
"Every day I come here and every day I look at the piece of wood, and it has inspired me to continue to make the footprints myself," Genden Darji, a 29 year-old monk in the monastery, adds and continues by saying that Chi's example has influenced a large number of the novices in the temple to start dedicating more time to their prayers and less to themselves.
Watch Ven. Hua Chi on YouTube