Buddhist monks plan to buy part of Temple farm, build forest monastery
By JESSIE SALISBURY, Nashua Telegraph, November 2, 2013
TEMPLE, New Hampshire (USA) -- Bruce and Barbara Kantner, owners of the former Derbyshire Farm in Temple for 30 years, have been looking for a way to protect their land, as well as support small educational and contemplative activities.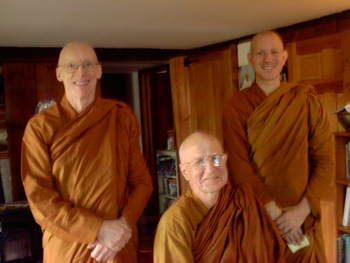 << Photo by JESSIE SALISBURY
These Buddhist monks, who visited Temple recently, plan to buy part of the Derbyshire Farm and create a forest monastery and a place of contemplation. It would be the first such facility in New England. From left are Caganando Bhikku; Ajahn Viradhammo, abbot of Tisarana Monastery in Ontario; and Ajahn Jayanto.
They found the answer in the establishment of a Buddhist forest monastery.
"Our goal from the beginning has been to turn this property into an education center and contemplative/retreat center with organic gardens and a small residential staff," Bruce Kantner said in a letter to the Monadnock Ledger-Transcript in Peterborough.
"We've envisioned the land being cared for and protected in to the far future with programs that will benefit participants, local communities and our New England region."
In July, the Kantners met with Ajahn Jayanto and Caganando Bhikku, American monks who were looking for a place to establish a forest monastery in New England.
After consideration of several sites, they decided on Temple.
Kantner became acquainted with the monks at a monastic retreat two years ago.
On Saturday, Oct. 26, the two monks, with Ajahn Viradhammo, abbot of Tisarana Monastery in Perth, Ontario, visited the Kantners at their hilltop farm.
Residents and other interested people were invited to talk with the monks, share a meal and walk the proposed monastery site.
"We live quietly in solitude," Jayanto said. "We would develop a contemplative place. This would be a training place for monks."
The monks are in the process of fundraising and making the legal arrangements to rent or buy the property.
The initial plan is for the monks to acquire the lot adjoining the farm, which the Kantners purchased 14 years ago, known as the former Jessen and Cliff House properties.
The entire property covers 242 acres and abuts the National Wildlife Refuge in Greenfield.
"We won't be back here until next summer, when we hope to take up residence," Jayanto said. "We want to see first if we fit into the neighborhood. … Finding this place is miraculous.
"Forest monasteries are composed of a small group of buildings built in the woods, where the monks reside. Our ethos is living within nature. The farm would eventually be home to 10 to 12 monks, each with an individual cabin, with a central meeting place for group meditation and places for visitors to the monastery to stay.
"This would be a private monastery, not a public place, but a place for those who wish to be quiet and meditate may come. It is basically a secluded, religious place.
Jayanto said the monks don't go out and try to convert people to Buddhism.
The monks are required to be celibate and to eat between dawn and noon, and are forbidden to handle money.
"I haven't touched money in 23 years," Jayanto said. "Ours is a collective economy of giving, people who appreciate our way of life helping each other. Places are rare where contemplative life is available and people support that."
People who come offer food or other support, he said: "There are many kinds of giving."
The monks support a nonprofit foundation, and the purchase of the property would be made through that.
"We follow a 2,500-year-old tradition," Jayanto said. "The task for us living in the modern world is finding the balance with that tradition."
For more information, visit forestmonastery.org.
TOP