Buddhist holiday adapts Zen to modern America
By EVELYN SHIH, North Jersey.com, December 7, 2006
Wyckoff, New Jersey (USA) -- There may not be anyone making a list and checking it twice or children spinning dreidels for chocolate on Bodhi Day, but the traditional Buddhist holiday will bring some festivities to Zen centers in New Jersey this weekend.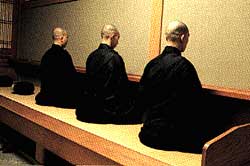 Celebrated in the Japanese Zen tradition, Bodhi Day is also called Rohatsu, or Dec. 8 in Japanese. The day commemorates the enlightenment of the Buddha Siddhartha Gautama, who attained the ultimate understanding of truth as he meditated under a bodhi tree.
Joan Hogetsu Hoeberichts, currently the Zen priest of the Heart Circle Sangha in Ridgewood, explained that the Buddha realized in the dawn of Rohatsu that he and all sentient beings were "one with all that is, not separate and alone as we imagine."
In monastic Zen practice, Hoeberichts added, Rohatsu is usually marked by a 10-day retreat known as a sesshin, during which the monks meditate 10 to 12 hours a day. On the final night, Dec. 7, monks sometimes stay up through the night, symbolically imitating Buddha's commitment to meditate until he attained enlightenment.
In its current incarnation in New Jersey, Bodhi Day has become less of an intense ordeal and more of a day for gathering in religious community.
"We're now using a more worldly model, for people with careers and a family," said the Rev. Paul Genki Kahn of the High Mountain Crystal Lake Zen Community of Wyckoff. "We are adapting Zen to our time, here in America."
Many priests at both Zen centers are working professionals, as are the members. High Mountain will be celebrating Bodhi Day tonight from 7 to 9 so as not to conflict with work schedules. The Heart Circle Sangha will be staying away from business days by holding a retreat Sunday.
Both services are open to participants with no meditation experience or knowledge of Buddhist teachings -- and, Genki adds, people of different religious faiths.
"Our purpose is not to make a religious factory, but to give people the technology to live a good life," he said.
In addition to teaching in the Soto Zen tradition, High Mountain hosts a group of Christian Buddhists who use the discipline of meditation to facilitate Christian teachings. Over the years, many non-Buddhists have vowed to follow the Buddhist precepts in a ceremony called the jukai.
"The core of our community is Zen as a way of experiencing and living," Genki added.
* * *
Bodhi in Bergen
Where: High Mountain Crystal Lake Zen Center, 393 Crescent Ave., Wyckoff.
When: 7 to 9 tonight.
What: Paul Genki Kahn will lead a group meditation, a chanting session in appreciation of the Buddha and a reading of the Turning of the Wheel Sutra. Refreshments will be served.
Where: Heart Circle Sangha, 451 Hillcrest Road, Ridgewood.
When: 9 a.m. to 5 p.m. Sunday (participants are asked to arrive 10 minutes early).
What: The Heart Circle Sangha will expand the regular Sunday morning service, which usually covers meditation, chanting of sutras, a dharma (Buddhist teachings) talk and a group discussion.
Afternoon activities will include Work Practice, in which practitioners do chores in silence and awareness; sitting and walking meditation; Practice of Immediacy, which involves expression through paint, clay, writing or drawing in the moment; and individual meditation interviews, in which Joan Hogetsu Hoeberichts answers questions and helps students with the study of puzzling Zen parables called koans.