Finding dharma in the 'me' era
By GARY STERN, THE JOURNAL NEWS, June 5, 2007
KENT, New York (USA) -- The meaning of self is on the table at Chuang Yen Monastery - in particular, what Buddhism teaches about letting go of the self - when a quirky question comes up in class: Could the Buddha make it in America today?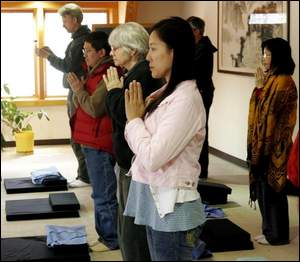 << Stuart Bayer/The Journal News
Two dozen students are part of the class that meets every other Saturday to study Buddhism at the Chuang Yen Monastery in Kent. The Venerable Thich Tri Hoang leads the program, in which students commit to three years of in-depth, participatory exploration and meditation.
How would he get through to a culture obsessed with selfness, in which therapists, Oprah and cosmetic surgeons join forces to polish and buff the individual? A popular magazine at supermarket checkouts is called, simply, "Self."
Would the Buddha sit and reflect in his familiar, cross-legged pose, unmoved by the latest self-help fad, or would he stomp away, his round face in his hands?
"The Buddha would have a lot of work to do," says Tom Duva, 49, who drives in from Hartford, Conn., for the class. "We are in love with our problems."
Fellow student Alan Mills, 53, who makes a 12-hour pilgrimage from Ann Arbor, Mich., chimes in: "He would definitely need psychotherapy."
The class laughs. They understand. These two dozen students have been meeting every other Saturday morning at Putnam County's nationally known monastery because they are trying to follow the Buddha's example. They want to let go of the self - petty concerns and biases, destructive emotions, all that baggage - in favor of awareness and connection, even though they live in a time and place that prizes the individual,
The modern celebrity, one might say, is our über-self.
Buddhist practice has become increasingly popular with Americans for the past two decades, with surveys showing that at least 1.5 million people identify with the Buddha's philosophy. But this class represents a new level of Buddhist pursuit, drawing students from across the tri-state area and far beyond to study eight major Buddhist traditions.
Participants commit to three years of in-depth, participatory exploration and meditation, led by a Vietnamese monk who looks to take great pleasure in sharing the dharma - the Buddha's teachings - with Westerners who are searching for something more.
"The concept of 'no self' does not mean that we do not exist," says the Venerable Thich Tri Hoang, the dharma adviser to the Buddhist Association of the United States, which is based at Chuang Yen Monastery. He laughs easily, when not in a meditative pose.
"The teaching of the Buddha is to try not to attach to the self or see the self as an independent entity," he explains. "We depend on everything - on food, shelter, government, everything. Everything. We are dependent physically, mentally, spiritually. You have your personality, your identity. But you should know that you will not have those things forever. Those things do not have an independent nature."
The class meditates together, seated on cushions in the monastery's spacious former library. The room feels so still that the turning of a notebook page sounds like a thunderclap.
They take turns discussing texts. They raise questions, reveal bits about their own lives and share their struggles to live the dharma. They meditate again, walking slowly in a clockwise circle. And they look to Hoang for wisdom and answers.
They talk and study some more, and then conclude with lunch.
"This food is a gift of the whole universe, the earth, the sky and much mindful work," says Julie Wagner, 39, of Branford, Conn., before the meal. "May we eat in mindfulness so as to be worthy of it."
The Buddhist Association of the U.S. has long welcomed neighbors, from far and wide, to its quiet and woodsy 125-acre estate in Kent. Leading experts on the rise of Buddhist practice in the U.S. say that the monastery is a natural home for a new kind of study for laypeople that combines meditation and a teacher's guidance with Western-style discussion.
"There are lots of Buddhist education programs at various Buddhist centers around North America, but I don't know of any with this three-year, continuous focus," said Charles Prebish of Utah State University, a prominent Buddhist scholar who has visited the Kent monastery several times. "Some of the Buddhist centers around North America do provide a rather comprehensive approach, over time, to Buddhism in all its facets, but none quite like this."
Richard Seager, the chairman of religious studies at Hamilton College in Clinton, N.Y., said he is aware of multiyear programs for advanced practitioners in Buddhism.
"But I have not heard of a program quite like this before," he said.
The monastery is just completing the first year of its second, three-year program.
The class illustrates the diversity of Americans who dabble in the dharma. Its students come with very different levels of experience at Buddhist study and practice. They also have various interpretations of whether Buddhism is a religion, a philosophy or something else.
Some consider themselves to be Buddhists and have left behind their Christian upbringings (many Buddhism programs have large percentages of Jews, but not this one). Some see Buddhist practice as a way to supplement their Christian faith. Most are more concerned with the pursuit of mindfulness - an awareness of one's thoughts, actions and connections - than they are with labels.
One thing they agree on: As a group, they are deeply appreciative for the chance to study together and with Hoang.
Bill Ford, 59, of Goldens Bridge has been studying Buddhism for almost 30 years and is one of three students to be with the class since its start.
He taught English for 33 years in Yonkers high schools before retiring in 2002, and says that Buddhism helped him evolve into a more compassionate educator.
"Buddhism is about inner development, and I do consider it to be a religion," he says. "In the Judeo-Christian tradition, including Islam, God is the center of the universe. Buddhism gives you a different way to perceive the universe, starting with the incredible relationship of all things. It's important to get support from the group and a sense of community because there's a lot there."
Mahopac resident Florence Oakley, 49, is a retired Bronx police officer who stumbled upon Buddhism and studied - quietly - with another cop. A practicing Catholic, she now counsels retired police officers and relies on Buddhist teachings in her work.
"A lot of guys, even off the job, have money problems, are alcoholics," she says. "Some got into shootings and have post-traumatic stress. After I counsel a person, I meditate to take in what was said. Buddhism has helped me look at life differently. It's about having compassion and empathy in our life. I don't see it as a religion."
Wagner, a psychologist, says that many Americans who are drawn to Buddhism were dissatisfied with their prior religious traditions or even "angry at them."
"I'm not angry; it just didn't work for me," the former Episcopalian says. "I think Buddhism serves the same function as a religion. It gives people hope. It provides a moral framework. It is a path to spiritual enlightenment. Whether it really is a religion is not important to me."
Buddhism was born about 2,500 years ago. Siddhartha Gautama, the Buddha, renounced a life of privilege in favor of pursuing an end to suffering through meditation, moral behavior, mindfulness and other means. Of course, boiling down an ancient belief system in this way is like reducing Judaism to the Exodus or Christianity to the Passion.
Most of the students see the Buddhist path as a way to add meaning to their daily lives.
"Buddhism is practice; it's stuff to do," said Victor Fama, 41, of Pleasantville, who grew up Catholic in the Bronx. "It provides guidance that I don't find in Christianity today. I came to the conclusion that Jesus was in the dessert, meditating, working to get where he got. I wanted to do the same thing."
For Mills, the class in Kent is the latest stop on a long journey - and not just because he drives in from Michigan. He grew up a fundamentalist Baptist in southern Georgia, and says he began climbing out the window "around the time they told me my dog would go to hell." While living in New York City during his early 20s, a book about Zen Buddhism literally fell on him and set him on a 30-year trek from monastery to monastery.
Only after moving to Ann Arbor did he hear about the class in Kent, which he began attending with his wife and young son last year. He hasn't heard of a class like it, combining a renowned monk's teaching about the dharma with a Western-style give-and-take among students.
"A class like this is very unusual," said Mills, a consultant on health-care reform. "The thing is, you can study and study and study Buddhism and it's almost counter-productive. Having a fresh beginner's mind to look at Buddhist is the best way. These are fresh beginners' minds and I enjoy being with them."
Mills says that the Buddha's message is so simple that it is difficult to grasp.
"What he was saying is that the path to happiness is utterly letting go," he says. "That will allow you to quietly build up and fashion your own world. When you start doing that, your experience of the world crashing down every minute, every year, every lifetime, will come to an end. At the end, you will find utter bliss."
But getting there, learning to let go as you live your life, takes commitment and time.
"In order to play the cello, you have to train on the cello," he says.
TOP