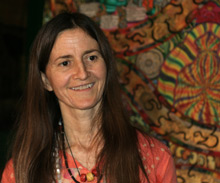 Buddhist holy colors are orange and maroon.
What connects the Blue Ridge surrounding Virginia Tech to a remote village in western Nepal?
A dedicated Blacksburg artist and a Nepali medicine man, Amchi Tsampa Ngawang Gurung Lama.
[According to Vance, amchi means Tibetan medical doctor, Gurung is Tsampa Ngawang's Tibetan family name and lama is his Buddhist title as mind-healer.]
After extensive travels to India, Sri Lanka and Nepal, Vance, local painter and Virginia Tech professor, first met Ngawang in 2001 through friend and photographer Thomas Kelly.
Vance and Ngawang quickly became friends.
"He believes we share the same mind, which means we have the same intention, which outlives just our bodies and this one lifetime," Vance says.
With Vance's help, Ngawang completed his dream in 2001 of traveling to America.
During Ngawang's visit to the United States, he stayed at Vance's home in Blacksburg while he taught a semester-long course on Himalayan culture at Virginia Tech.
Ngawang recruited Vance to paint a lineage painting of himself, a painting "which situates a great teacher in a long line of other great teachers, much as a genealogical chart places an individual within a family," Vance says.
For Vance, this was the opportunity of a lifetime.
She became the first western and first female ever to be granted permission to paint a Tibetan lineage painting of a Tibetan amchi.
She had to make it special.
In the summer of 2007, Vance and seven friends ventured to Ngawang's village in Nepal to hand deliver the lineage painting she completed in 2004, a journey and celebration, detailed in the documentary "A Gift for The Village," which her film team hopes to debut by summer 2010.
The Artist
Vance is not your typical artist; her home is filled with large and bright Tibetan paintings and cats, 20 to be exact.
She believes in the Abominable Snowman and her driveway is lined with what appears to be paper cloths hanging from clotheslines.
Actually, the cloths are prayers. According to Tibetan Buddhism, when the wind blows, it carries the prayers into the world, dispersing intentions of peace and love.
Her friends describe Vance as generous and enthusiastic.
Videographer and friend Tom Landon says, "She gathers friends the way she gathers cats, and once you are a friend you know she'd do anything on your behalf."
Landon would describe her enthusiasm as "all-consuming" while best friend Jenna Swann says it is "contagious and sincere."
Vance paints with soils collected from her journeys to remote regions such as Mustang in northwest Nepal. These soils, she considers to be her real treasure.
The Painting
The 7-foot linen painting is not simply a portrait of Ngawang; it also includes a narrative record of Ngawang's first visit to America.
Surrounding the image of Ngawang, seated at a small table and holding prayer beads, are text bubbles in English and Tibetan, describing his journey and his contributions at Virginia Tech.
Behind the text bubbles, the background is filled with an ornate landscape of Virginia flowers and the Blue Ridge Mountains in a Tibetan setting, Vance's unique contribution to this style of lineage paintings.
"I wanted this painting to be both traditional and respectfully hybridized--art done by an American, by invitation, within the Tibetan Buddhist tradition, " Vance says.
Her motivation for her artwork is in forming cultural bridges.
"I want to show that moving deeply into a culture you were not born into does not mean repudiating your home culture," Vance says.
In 2004, after 10 months of labor, Vance finished the painting.
Upon completion, a ceremony took place in Vance's home with traditional Tibetan music to bless the painting and the life of the work.
But for Vance, the project was far from over; she had to hand-deliver the painting herself.
According to Vance, it is customary in Tibet to give a gift to the entire village, not just one person.
Journey and Reception of the Painting
With the aid of approximately 100 donors and the help of many friends, Jane and her crew fundraised and collected enough money to make the trek to Nepal in June 2007.
The reception of the painting was to be reciprocated with a festival in the village of Jomsom, Ngawang's home, to celebrate this cultural exchange.
Vance's team of seven began filming "A Gift for The Village" to document this occasion.
On June 28, 2007, villagers from across the region, traveling by foot, tractor, or horses adorned with ornate head and saddle gear arrived for the festival.
The painting was revealed in the community center while a 'secret' ceremony for Vance and her team was held in Ngawang's private chapel.
Swann recalls the celebration.
"The festival was more than I could have imagined, beautiful clothing, traditional songs, dancers and games, amazing flat bread and curries, and over 1000 people in attendance," Swann says.
The celebration began at 9 a.m. and continued through early the next morning.
The most touching part of the ceremony for Vance occurred when Ngawang's son prayed and read a piece about the "brothers and sisters at Virginia Tech," referring to the lives lost in the Virginia Tech shootings on April 16, 2007.
Ngawang's son said the people of west Nepal and of Jomsom would never forget the Hokies because "we're family."
To Vance, establishing this "solid bridge" was the most meaningful part of the entire project.
"When you build those kinds of bridges, those will never go away," Vance says.
Blessings
Nepali news agencies were quick to cover the celebration and gift while prominent Buddhist lamas and a member of parliament thanked and offered their praise to the team.
Even the Dalai Lama sent his blessings.
"For the Dalai Lama to send his personal wishes for the success of this bridge and this project was, for those Tibetans there, a really profound piece of empowerment," Vance says.
News of Vance's project did not travel as quickly to one of the most remote regions of Nepal, Upper Mustang.
The team walked 155 miles to personality deliver the news about the painting to the 25th hereditary King of Lo, Raja Jigme Parwar Bista.
Documentation
Vance and her team are currently editing and scripting the documentary "A Gift for The Village."
Their goal for this film, according to videographer Landon, is "to tell the story of the connection between the Blue Ridge and the Himalayas and, really, just to tell a good story that will make people curious about these wonderful people and the lives they lead."
Landon described the process for making the film.
"It was important to me that we shot with High Definition cameras, and the footage, especially the exteriors, is stunning," Landon says. "We went with a plan for how to shoot key events, like the arrival of the painting in Katmandu, the sewing of the embroidered frame, the flight to Jomsom, the festival, and the trek to Upper Mustang."
Vance expects the hour-long documentary to be aired on public television.
The team has been invited to debut the film in Katmandu, Jomsom, and other isolated villages and cities such as where the King and Queen of Lo reside in Upper Mustang.
Vance anticipates "A Gift for The Village" will be finished by summer 2010.
Her hope is that the film will be projected onto large white sheets hanging from the walls of old monasteries. Vance desires that her family, friends and students join her for these film nights in western Nepal.
However ambitious her goals may be, Vance remains humble about her work.
Vance says, "I now know that originality is a little stepping stone and that the best place I found is collaboration, where your own work is not the only thing happening. In fact, it's just a contribution."
A Gift for The Village