More than Meditation
by Kanglei Wang, The Yale Globalist, 11 May 2009
New Haven, Connecticut (USA) -- Nine years ago, Homeig Wu hesitated when asked if she had a religion. She had a fleeting relationship with Buddhism, making only occasional donations and trips to her local temple to "bai bai" — a light-hearted religious practice that more devout Buddhists see as only brushing the surface of spirituality.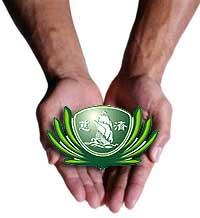 Like Wu, most Taiwanese citizens and Taiwanese immigrants to the United States would say they have no religion. Buddhism has been an important part of Taiwan's folk tradition, and Taiwanese government statistics indicate that over one-third of Taiwan residents identify with Buddhism in some respect, but their belief is just not formal enough for them to consider themselves full-fledged Buddhists.
Occasional "bai bai" was the extent of Homeig Wu's Buddhist practice before she joined the Flushing, New York, chapter of Tzu Chi, a Buddhist organization that promotes social engagement. She has been with Tzu Chi ever since, seeing its work at a family service center by Pier 94 in Manhattan after the September 11 attacks. She now volunteers five days a week with the organization.
In recent years, socially engaged Buddhism has emerged as a response to the stereotypical, socially isolated Buddhism of temples, meditation, ancient texts, and monks in flowing robes. A Buddhist nun started Tzu Chi — which literally means "compassion and relief" —in 1966; it now has chapters in over 30 countries and about 5 million members worldwide.
Instead of meeting in temples, Tzu Chi members gather in offices, recycling centers, homeless shelters, and free clinics, donating their time to run community-oriented direct action. Tzu Chi and its followers look to live the Buddhist principle of compassion, to practice Buddhism in action, beyond the temple.
A Tzu Chi follower who asked to be called Sister Chen (volunteers refer to each other as "brother" and "sister" and describe individual experiences using "we" and "us") said that Tzu Chi, unlike traditional Buddhism, "encourages us to do something, not just chant for our next life." But traditional Buddhists have questioned whether Tzu Chi ignores the spiritual side of Buddhism, and some have pointed out that joining Tzu Chi does not force one to become more devout. Follower Yuanling Jiang, for example, who quit her job as a dental assistant to start working at Tzu Chi's Los Angeles Free Clinic, identifies as a Tzu Chi volunteer, not as a Buddhist.
"We don't talk about politics," she explained. "Our founder is Buddhist, but we don't discriminate against any religion." Though members do hold Buddhist study groups and learn about Buddhism via TV programs or pamphlets, Jiang noted that at Tzu Chi's International Medical Association Conference, members from the Philippines considered themselves Catholic, ones from Indonesia considered themselves Muslim, and those from South Africa mostly considered themselves Christian.
Tzu Chi's presence is often more social than religious. In Taiwan, the organization is well known for running object reclaim and recycling centers. There are Tzu Chi Collegiate Association chapters in most Taiwanese universities and even a college called Tzu Chi University.
To critics, particularly ones in Taiwan, the organization's emphasis on action has come at the expense of teaching the deep philosophies of Buddhism. Other socially engaged Taiwanese Buddhism groups align more closely with traditional Buddhism in their meditation practices. As Tzu Chi grows, critics also point to problems of bureaucracy, such as the tendency for even volunteer groups to become hierarchical: At Tzu Chi's recycling centers in Taiwan, volunteers receive different colored stars to wear to indicate the number of hours they have volunteered.
Tzu Chi tries to foster both spirituality and service, blurring the line between the two as much as it can and welcoming followers regardless of their religious practice. For a Buddhist who was never devout, Tzu Chi can foster the compassionate action that Buddhism promotes, at least in theory, if not always in practice. But for those who feel Buddhism is and must be focused on honing thought and mind, Tzu Chi is not truly in line with the Buddhist tradition with which it claims affiliation. This brand of Buddhism is not likely to overcome other traditions, but its continued existence and growth — if there is growth — may signal whether Buddhism is headed in a new direction in the 21st century.
---------------------
Kanglei Wang is a sophomore Environmental Studies major in Branford College.
TOP