Korean Zen master offers lessons in Buddhism, meditation
By Ron Cassie, Frederick News-Post, March 27, 2010
Korean Zen master offers lessons in Buddhism, meditation

Frederick, Maryland (USA) -- "Are you new? Where do you live?" Gosung Shin asks before beginning the morning dharma talk at the American Zen College in Germantown.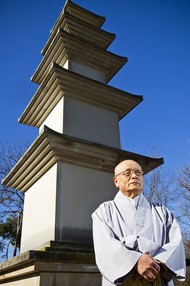 << Photo by Travis Pratt
Koren Zen master Gosung Shin at the American Zen College in Germantown
"Yes, I'm new," responds the first-time visitor to the picturesque former dairy farm where Shin resides and teaches. "I live in Mountaindale."
A Korean Zen master, Shin leads a local Korean Buddhist community and still serves as head of a large Zen Buddhist denomination in his native country. Through his American Zen College program, he offers a place to learn zazen, or seated meditation, on Wednesday evenings and Saturday mornings.
Shin also facilitates a weekend discussion intended to impart "the dharma," or the path of the Buddha that leads to enlightenment. This is not in any way a traditional college.
"Where is Mountaindale?" Shin inquires gently.
"Between Frederick and Thurmont ," the visitor, a reporter, explains.
"Mountaindale doesn't exist," the Zen master responds. "It's only in your mind. It's a hallucination."
Well, OK. Mountaindale's boundaries are invisible, arbitrary lines on a map, the visitor thinks to himself. For billions of years the land wasn't called "Mountaindale." It's merely a name. Not the thing itself.
"What about the snow?" the visiting reporter asks, a few days after a second February blizzard has left another 2 feet of snow on the driveway. A sore back from shoveling would seem evidence that the white stuff is real, tangible.
"Hallucination," repeats Shin, matter-of-factly. "The snow was a cloud before it was snow. The snow was the ocean before it was a cloud."
At first, "illusion" seems a more accurate term than hallucination for the point Shin has made. But as a Ph.D. and author of several books, he undoubtedly chose "hallucination" purposely.
Illusion connotes something happening outside oneself, such as a magician's trick. Hallucination, on the other hand, we recognize as fabrications created entirely by our own brains.
The true nature of reality, Zen Buddhism and modern neuroscience instruct us, is not found in the forms and colors that our eyes perceive and our brain reconstructs.
Of course, there is another point that becomes clear in the days ahead as the mounds of snow eventually melt and disappear.
"Everything is impermanent," Shin said
n n n
The 75-year-old Shin entered a Korean Buddhist monastery when he was 7 years old. Not for religious indoctrination, but because his parents wanted him to receive an education in a safe, healthy environment.
"This was before World War II," said Shin, who dresses in a traditional robe and keeps his head shaved. "There were few places to receive a good education. It was for academic purposes, the best schools were in the monasteries."
As a young man he became a fighter pilot for the U.S. allies in the Korean War. But in accordance with the nonviolent Buddhist philosophy, he only flew reconnaissance missions.
After the war, he was ordained a priest of the Chogye Sect of Korean Buddhism by the Venerable Zen master Sul-Bong and moved to Japan to further his study and practice. After serving as abbot of three Zen Buddhist temples in Korea, Shin arrived in the United States in 1969 as a student at Harvard University. Later, he taught religion at Lehigh University.
Since coming to the U.S., Shin has established Zen schools and centers in Pennsylvania, New York, Virginia, the District of Columbia, along with the 7,000-square-foot zendo and dharma lecture hall in Germantown.
Like a Zen koan, Shin remains a bit of a paradox in person and in his instruction.
With his shaved head, forthright demeanor and erect posture, he could pass for a former drill sergeant. Yet he's welcoming and smiles easily.
Although he has written several books, he does not encourage students to read about Zen Buddhism.
"Only information," he said of texts, not Zen itself.
This past weekend, Shin and members of the American Zen College community, the "sangha" in Buddhist terms, participated in a silent, two-day retreat combining 13 hours of seated, walking and chanting meditation. Beginning Friday at 5 a.m. and concluding Saturday at 4 p.m., the purpose of the retreat was to free practitioners from the preoccupation's of everyday life and sink deeply into the questions, "What is my essential nature?"
Andy Whelan, 68, president of BioElectronics in Frederick , resides in Urbana , but lived previously in Germantown. A former Roman Catholic, he said that he drove by the American Zen College for 16 years before walking through the doors of the dharma hall.
He's been coming regularly for the past seven years.
"I started meditating as a Catholic, the church has a long history of the meditation, but there is a duality within in the church that makes it complex," Whelan said. "Why are you praying to a God that is outside you, when God is inside you? There is no separation."
"What I found here," he said. "is pure 'Zen,'" by which he means non-duality, a sense of oneness with life and all things.
"Zen practice," Whelan continued, "gives us the realization that it's up to us to bring about a personal, transformative, spiritual experience. Jesus went into the desert for 40 days and meditated."
By sitting in the correct posture and quieting the mind through focusing on breathing, Whelan said, "the ego begins to shut down and your real nature, and reality, comes through."
Whelan said Shin talks about Zen Buddhism as stripping bare ritual and icons, focusing on mindful meditation, heading directly toward the path of enlightenment.
"Master Shin refers to it as walking straight up the face of the mountain," Whelan said.
Mary Torrey, 47, of Germantown, is also a former Catholic. She came to the Zen College to learn meditation to help alleviate health issues that left her unable to work or do much physical activity.
"For me, I needed to learn how to do nothing," she said. "I needed to learn how to be at peace with a life that had been filled with business and running around."
Through meditation, Torrey said she's been able to discard what she did not need: the emotional baggage she'd carried, as well as the usual cultural trappings of modern life.
"Zen is a practice that puts you in position to help yourself," Torrey said.
Shin said that in order to live a happy life, it takes honesty, knowledge, hard work and patience.
"Patience is very important," he stresses.
Human beings must become "unhooked," as he puts it, from physical and emotional attachments to feel liberated and receive enlightenment. Comparing the heart to a mirror, Shin said it takes dedication to keep one's heart clean from anger, resentment, selfishness and attachment.
Recognizing the dignity of each individual is equally important.
"No competing," he said. "Like an orchestra. No one competes, all play together and harmony and music comes forth."
When people achieve this enlightenment, he said, there is no need for hospitals, prisons, drugs or pharmacies.
"No need for the health care debate," he said with a laugh.
Through meditation and the everyday practice of mindfulness, innate compassion and understanding is developed, Shin said, which naturally is shared with others.
"Everyone and everything is created from the same 'wisdom light,'" the Zen master said. "Once people recognize this and their true nature, they blossom, like a flower that opens by itself.
"They become beautiful, and are able to help others the way a flower's honey helps a lot of insects."