Donors save Poolesville Buddhist temple
by Meghan Tierney, Gazette.net, June 9, 2010
More than $240,000 raised in five days
Poolesville, MD (USA) -- Members of the Kunzang Palyul Choling Buddhist temple had faith that they could raise the $243,000 they needed to keep their Poolesville property — they just didn't know how.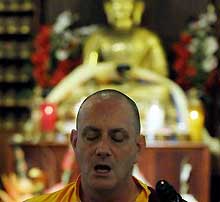 << Chris Rossi/The Gazette
Monk Gonpo Yeshe leads the food offering ceremony Sunday, June 6, 2010 Kunzang Palyul Choling Buddhist temple
Thanks to donors from all over the world, the group succeeded beyond its wildest expectations, raising the total amount owed to a bank in five days.
"To have to raise something in the neighborhood of $250,000 seemed impossible except that communities rise to the occasion," said Elizabeth Cohn, a member of the Tibetan Buddhist congregation's board of trustees. "It gave our broader community a rallying point."
A group of Buddhists purchased the 7-acre property at 18400 River Road in Poolesville in 1985 for $659,900, according to online state property records. The mortgage was paid off in 1998.
The temple bought 65 acres across the street for its Peace Park, a meditation garden, in 1989 from a private seller. Members paid off that mortgage in 2005 through a $250,000 mortgage-backed line of credit from Provident Bank, which was acquired by M&T Bank in May 2009. The temple property was used to secure the line of credit for the park.
The temple began falling behind on payments for the line of credit last summer due to a slowdown in monthly donations, Cohn said. The temple was behind by $13,000 when it received a letter on behalf of M&T Bank dated April 22 notifying members they had until April 30 to pay the remaining balance on the loan plus additional fees and interest, a total of about $243,000.
"They had the right to do that in terms of the contract but we were surprised at the lack of notice," Cohn said. Members received the letter on April 23 and opened it the next day.
The temple sent out a message to its e-mail list of more than 3,000 names, which includes people all over the world who tune in to its weekly webcasts of religious teachings, Cohn said.
In the first 24 hours, $60,000 was donated.
Members also held an online telethon, a strategy they had used to raise $5,000 to pay an electricity bill the month before.
"It's an interesting phenomenon when you're in a religious situation like this," said Ani Aileen Dara, a nun who used to do sound production for an NBC news crew. "On the one hand, I wasn't fearful that we couldn't do it, but I had no idea how it was going to work out."
The temple raised $48,000 in four hours on April 27, the first day of the webathon. A total of $205,126 had been raised by the end of the second night, April 28.
The Ven. Lama Dondrup Dorje, principal of the nonprofit Pathgate Institute of Buddhist in the United Kingdom , matched the total raised during the second night of the webathon, and then donated the remainder. He contributed a total of about $90,000, Cohn said.
"I looked at Ani [Dara] behind the camera and we realized this was a miracle — we were going to make it," Cohn said.
The group received 625 donations from 514 donors, Cohn said, an impressive feat for a congregation of about 125 people. Other groups have since contacted the temple to learn how to organize their own webathons, she said.
Donors included a woman in Australia who gave $10,000 by taking out an equity loan on her house; an 11-year-old girl who donated $48 from her piggy bank; local Vietnamese and Burmese Buddhist groups based out of other houses of worship; a family who visited during the webathon and gave all the cash it had; and someone who had been laid off and donated grocery money, Cohn said.
"We were blown away," Ani Aileen said. "I practically broke into tears. I was very moved, very touched."
What: Kunzang Palyul Choling hosts a "Walk for Those Who Can't"
Where: Peace Park, across the street from the temple at 18400 River Road, Poolesville
When: 9 a.m.-1 p.m. Saturday.
Details: Four hours of continuous prayer around the park's Enlightenment Stupa; refreshments sold by the Burmese-American Collective to benefit its upcoming performance at the Smithsonian Folklife Festival.
For information or to submit a prayer request, e-mail kpcprayerwalk@gmail.com.
To learn more about how KPC raised more than $240,000 in five days, visit www.tara.org/about/blog.
TOP