Sunday school class explores Buddhism
by Dana Clark Felty, Savannah Now, May 2, 2009
Savannah, GA (USA) -- Anijah Sampson, 6, learns to meditate during a "Buddhism for Kids" Sunday school program at Unitarian Universalist Beloved Community Church on Sunday. Hunter McRae/Savannah Morning News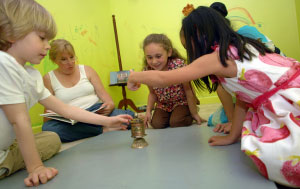 << Religious education director Chris Neal teaches her students about the prayer wheel during a "Buddhism for Kids" Sunday school program at Unitarian Universalist Beloved Community Church on Sunday. Hunter McRae/Savannah Morning News
SIX-YEAR-OLD CAYDEN SOMERS was rolling on the floor, jumping across the room and bouncing off the walls on Sunday as his Sunday school teacher prepared her lesson in the next room.
The energy soon transferred to 5-year-old Savana Kaufman and 6-year-old Dorothy Neal who jumped from side to side giggling hysterically.
Just as it seemed all hell would break loose, teacher Chris Neal entered the room and placed a small metal cylinder on the floor.
The children dropped to their knees and stared in awe.
The shiny object, Neal explained, is a prayer wheel used in the Buddhist religion. Inside the wheel are paper scrolls on which prayers are written.
"The Buddhists believe that spinning the wheels actually releases the prayers into the world," Neal said. "Now, we're going to release prayers into the world, too."
The lesson is part of Neal's Sunday school series "Buddhism for Kids" at the Unitarian Universalist Beloved Community Church.
It's the latest program at the church aimed at teaching children about faith through the lens of other religions, said Neal, the church's director of religious education.
"The bigger picture is not just about acquiring the knowledge about how different religions think about the big questions but how much they're all the same," said Neal who also teaches art history at the Savannah College of Art and Design. "It really all boils down- at least for Unitarian Universalists- to one thing, and that's, in essence, that they're all more alike than they are different."
Other Sunday school programs at the church have been themed "The Tao of Pooh," "Lessons from Dr. Seuss," and "Religions Around the World."
Starting in the summer, Neal plans to launch a series on Native American religion.
Neal couldn't find a curriculum on teaching Buddhism to children that she liked so she came up with the 14-week lesson plan herself.
Each week covers a theme and includes standard practices like chanting and meditation.
For the first week, the class learned about the life of Buddha, regarded as the central figure of Buddhism. Another Sunday focused on prayer flags often hung outside Buddhist temples
Neal plans to spend at least three Sundays talking about the "Noble Eightfold Path," a list of principles for overcoming suffering.
Last Sunday's theme was on prayer wheels. Neal brought paper, crayons, paper cups, beads and straws to help the children make their own. After coloring their cup, everyone slid a straw through a hole in the bottom and filled it with beads, which were supposed to represent prayers.
"What prayer would you like to send out to the world, Savana?" Neal asked.
The child gazed ahead and shrugged.
"What do you hope other people might have in their lives?" Neal prodded, this time sparking an idea.
"Recycling!" Savana declared victoriously as she picked up a bead.
Other children named their beads, "peace," "love," and "joy" as they placed them in their prayer wheels and gave them a vigorous shake.
Each roughly 45-minute class concludes with two to three 15-second rounds of silent meditation.
When Neal brought out a heavy metal bowl known as the "singing bowl," the children arranged themselves in a circle on the floor sitting Indian style. Some rested their hands on their knees as Neal instructed them to close their eyes and "listen to the voice inside."
Neal struck the bowl with a mallet and for a few seconds, Sunday school was totally still.
For Cayden, meditation feels a bit like going to sleep, but not really.
"It's like I'm not really conscious if I meditate too long," he said.
Cayden's mom, Susan Myers, believes this experience is a vital part of her son's religious education.
"I love that he has this exposure to a variety of religious practices," Myers said. "I think I see a calming affect in him, which is a great thing for a 6-year-old.
Buddhism for Kids
11 a.m. Sundays at Unitarian Universalist Beloved Community Church, 707 Harmon St. All youth are welcome. For information, call 441-0328.
TOP