Buddhist: Tolerance an outgrowth of love
By GEORGE MORRIS, 2theAdvocate.com, Oct 21, 2010
Baton Rouge, LA (USA) -- Having previously chosen Christians, Jews and a Muslim for its speakers, the Interfaith Federation of Greater Baton Rouge went outside the bounds of monotheism for its 24th annual Community Prayer Breakfast on Wednesday.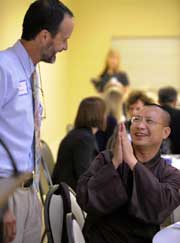 << TRAVIS SPRADLING/The Advocate
Thich Dao Quang, a Zen Buddhist monk who serves as abbot at Tam Bao Temple in Baton Rouge, bestows a blessing on Keith Horcasitas, left, a licensed social worker with Catholic Charities at the Catholic Diocese of Baton Rouge, after extending an offer to Horcasitas to come to visit and pray at the temple. Horcasitas, a practicing Catholic who utilizes Zen prayer techniques to deepen his Christian spirituality, said he was honored by the blessing.
In monk Thich Dao Quang, the federation found a Buddhist who can both quote the New Testament and deliver a punch line.
Quang, abbot at Baton Rouge's Tam Bao Temple, spoke on "cultivating the seed of love" at the Greater New Guide Baptist Church education center. He is a native of Vietnam who came to the United States in 1994.
His self-effacing humor appeared to overcome any religious or cultural differences he had with the audience of 200, which enjoyed his story about moving to Baton Rouge in 2003.
"All of my American friends, they whisper to my ears, 'Thay (spiritual teacher), please do not move to Louisiana,' " Quang said. "I'd say, 'Why?' And they'd say, 'Louisiana is one of the most conservative states in the country. Don't you know that?'
"I said, 'Yes, I have heard about that, but I believe in my karma. If I have a good karma, I may end up with the most liberal people and open-minded people in the most conservative state.' And it happened."
Quang was 8 years old when the Vietnam War ended in 1975, and his father, who had been a police officer in South Vietnam, was imprisoned for six years for having served with the losing side's government. Quang entered a Buddhist seminary in 1991, and three years later his family immigrated to the United States under a program to assist those who had been imprisoned for their assistance to American forces in the war.
"So, I have to say thank you to the communist society that arrested my father. That is the reason I'm here," he said. "That is a way I can practice tolerance and forgiveness for the communist society."
Tolerance is one outgrowth of love, which Quang said is the basis for all religion. He quoted I John 3:18, "Little children, let us not love in word or tongue but in deed and in the truth." He emphasized that actions are more significant than beliefs.
"I see the similarity and difference also between the Buddhist belief and Buddhist practitioner and the Christian belief and Christian practitioner," Quang said. "I love to interact, I love to work together with the Christian practitioner rather than the Buddhist believer, also. We have to practice, not believe."
Quang said reacting on emotion gets in the way of showing love. A key to overcoming this is concentrating on understanding why someone is behaving in bothersome ways. He offered a humorous hypothetical.
"I give a wonderful speech but you sleep right now," Quang said, prompting laughter. "I have to understand. I can't jump to conclusions. … Probably he or she did not sleep well last night."
"If you practice maintaining the seed of love and compassion into your life and you generate this positive energy, the love and compassion into your community, your family, I strongly believe we'll make Baton Rouge become a greater, greater community in the country. I'm very happy to be here, because I feel this is the right place, this is the right time. We work together. We live together."
TOP