Tibetan Buddhist center settles in at home
By Martha Elson, The Courier-Journal , January 12, 2011
New site is on Hubbards Lane
Louisville, KY (USA) -- The coat closet at the former Jehovah's Witness Kingdom Hall on Hubbards Lane in St. Matthews was full of shoes recently, signaling the big change that has taken place there.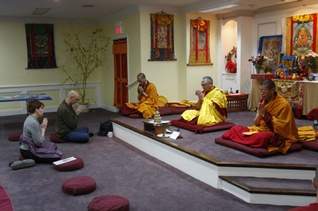 << Margaret Costello, left, Keith Schmidt, Geshe Kalsang, Geshe Kalsang Rapgyal and Geshe Lopsang Dondup attend the Drepung Gomang Institute. (By Pam Spaulding, The Courier-Journal) Dec. 29, 2010
The building recently became home to the 10-year-old Drepung Gomang Institute of Louisville, a Tibetan Buddhist education and worship center that is moving there from an apartment in the Bonnycastle neighborhood. Monks will be living there too.
Those who enter the building at 411 Hubbards are asked to remove their shoes before proceeding into the carpeted "shrine" or worship space, which is appointed with colorful wall hangings and pictures related to Tibetan Buddhism.
"It's our mission to serve and help people," Geshe Kalsang Rapgyal, a resident monk, said through a translator, Tenpa Phun Tsok.
A weekly chanting and meditation session was in progress on a recent Wednesday evening, led by Rapgyal and two other monks seated on a low stage.
On the following Sunday morning, Rapgyal was there with visiting monks who were working on a mandala, a Tibetan sand painting. A weekly teaching and education session is usually held at that time. Both gatherings are open to the public.
Chloe Taylor of Crescent Hill, who was there on the Sunday, said she's been practicing Buddhism and is drawn to the fuller "feeling of the ritual" at the center.
It creates an atmosphere that's conducive for meditation, she said, and she's interested in Buddhist "teachings about how to live daily life." The "fundamental one" is about showing compassion, she said.
Followers also learn to "be responsible for what you do," said Tobby Spalding of Deer Park, another Sunday participant.
Center supporters bought the building for $400,000 in November and had been using it part-time before that.
The ongoing aim is to impart the teachings of the Dalai Lama, the exiled spiritual leader of Chinese-occupied Tibet. They center on "healing the world while building peace" and "how to be the best people we are able to be," said Walter, who also belongs to St. William Catholic Church and does interfaith work there and at St. Agnes Catholic Church.
The new Drepung education and worship center also wants to continue to foster an "interfaith dialogue" with other groups, such as Interfaith Paths to Peace and the Abbey of Gethsemane, she said.
The center opened in the St. Matthews building in November and is still in the process of moving there from an apartment at 1578 Parsons Place. It's affiliated with a monastic college and monastery by the same name that's home to 2,000 monks in India.
The former owners of the building are a Vietnamese Buddhist couple, Nuong and Tay Nguyen, who operate Expert Tailors & Gifts, 4905 Brownsboro Road. The Jehovah's Witnesses had sold the Hubbards Lane hall and one in Middletown in 2006 to build a new hall in Lyndon.
Literature from the Drepung center says it is "not a religious institution seeking to convert individuals to the tenets of Tibetan Buddhism."
Rather, it "keeps in mind the injunction of His Holiness the Dalai Lama to monks who prepare to come to the West: 'You do not need to go make more Buddhists. You should rather go and help make good people.' "
The new location offers a bigger and more visible site for the center. "We so want this center to grow," Spalding said.
TOP