Vietnamese families transform former Methodist church into Buddhist temple
By Rebecca R. Bibbs, The Herald Bulletin, Oct 22, 2016
Anderson, IN (USA) -- Madison County's religious landscape stands poised to broaden Sunday with the grand opening ceremony of the Chua Pho Minh Buddhist temple.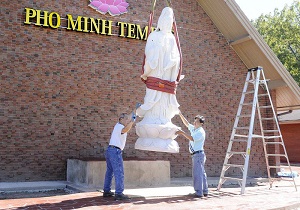 The temple, 4100 Main St., Anderson, is founded by several Vietnamese families and is named in honor of temples of the same name in Tuc Mac, Vietnam, and Sacramento, Calif. The original temple was built during Vietnam's Tran Dynasty in the 13th century.
Diep Laughlin, one of the founding members of the Anderson temple, which will include a monastery, said it was the dream of El Cerrito, California-based the Rev. Anna Dao, who wanted to expand her ministry. She bought the 1.27-acre property, which was listed in the Madison County Sheriff's auction with an asking price of more than $207,000, in March 2015.
"When we came to this country, in California, they had a lot of temples," Diep Laughlin said.
According to the Pew Research Center, there are about 650 Buddhists in Indiana. Buddhism is practiced by an estimated half billion people worldwide.
Chua Pho Minh, believed to become the ninth Buddhist temple in Indiana, is expected to open with about 200 members. Founders expect to support the building, formerly the Emmanual United Methodist Church, by selling vegetarian food wares, Diep Laughlin said.
Her husband, Larry Laughlin, said the temple, where worship will be offered in English and Vietnamese, will serve Buddhists from not only Anderson but also Muncie, Fishers, Carmel and as far away as Fort Wayne.
Though he had not yet heard about the Buddhist temple moving to Anderson, Dhondrup Tsering, manager of Bloomington's Tibetan Mongolian Buddhist Cultural Center, said running a temple can be expensive. Tsering said he's not certain whether there are enough Buddhists in this part of Indiana to support a temple, which can require periodic maintenance.
"Of course it takes money. The utilities are very expensive," he said. "If it's one temple, it's OK, but we have several buildings. Our property is very big."
The center in Bloomington has only nine actual members and relies on the property rentals and sales at the Happy Yak gift shop, Tsering said. The fact the temple was founded more than 20 years ago by the brother of the 14th Dalai Lama, head of the Yellow Hat or Tibetan school of Buddhism, is a draw.
"Those cover like 40, 50 percent of the expenses yearly," he said of the rentals and gift shop sales.
Many of the visitors, Tsering said, coming from the Mongolian community in the Chicago area. He also counts IU Chinese students as visitors because most come only a few times a year.
"A lot of people come from out of state because they're coming to visit because of IU," he said.
But whether the temple can be supported also depends on the wealth of its founding families, Tsering said.
"If it's very rich families, it's very easy," he said.
Buddhist temple design
As with the worship structures of other religions, Buddhist temple design typically represents elements of the faith, in this case fire, air, earth, water and wisdom. The first four generally are represented through a square base, and wisdom is the pinnacle.
Though it may vary depending on the culture, traditional Buddhist temple design is intended to inspire inner and outer peace.
Buddhist temple design typically includes not only the structure but also the surrounding environment.
TOP