Ann Arbor Buddhist yard sale offers a bit of Nirvana for bargain hunters
by Jo Mathis, The Ann Arbor News, August 29, 2008
Ann Arbor, Michigan (USA) -- In the market for a three-pronged, battery-operated marshmallow toaster? How about a set of nail clippers glued to a tiny soccer ball?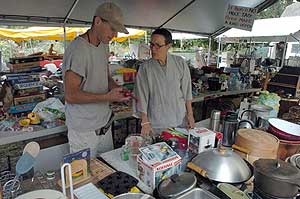 << Alan Warren | The Ann Arbor NewsLenny Bass, left, and Rev. Haju Sunim, resident priest, look over items as they get ready for the Zen Buddhist Temple's Great Green Yard Sale that runs this weekend at the temple on Packard Road in Ann Arbor.
If your tastes run a bit more pedestrian, there's also a plethora of the practical at the Ann Arbor's Zen Buddhist Temple's 20th annual Great Green Yard Sale Saturday through Monday.
The Labor Day weekend sale is a much anticipated tradition for college students with apartments to furnish, said Lenny Bass, who coordinates it.
People who worship at the temple are encouraged to let go of some of their material objects, said Bass. So the sale is a perfect place to donate them.
"Then we pocket the money," he said with a smile. Last year, the temple made about $13,500 at the garage sale, which pays for needed building repairs.
On Thursday, the temple's yard was packed with all sorts of used things, some more useful than others. They ranged from house wares to furniture to a stack of old Life magazines dating back to 1939.
About half the items are donated by temple members. The rest is picked up off the streets after University of Michigan college students leave for the semester.
"This one has a busted spring!" shouted Bass's 9-year-old son, Zeke, jumping happily from one of the 25 couches and futons to another.
"And he swears he wasn't the one to do it," said his dad, noting that volunteers test and repair bikes, furniture and appliances before selling.
Haju Sunim, resident priest of the Zen Buddhist Temple, said the Buddha encouraged his disciplines to own only eight objects: a bowl, two robes, a belt, needle, thread, razor and water filter.
"The whole tradition is, 'Less is more,' " she said, explaining how she likes to see the items recycled and used by college students rather than thrown out.
Even the signs reflect the values of the temple."If there is no price tag," they read, "please make a kind offer."
Yard sale
What: The 20th annual Great Green Yard Sale.
When: Saturday through Monday from 9 a.m. to 5 p.m.
Where: Zen Buddhist Temple, 1214 Packard Road, at Wells, Ann Arbor.
What's for sale: Furniture, house wares, books and anything that's donated.