New temple offers insight into Buddhism
By KATHY CICHON, Suburban Chicago News, January 19, 2009
Chicago, USA -- It was a double celebration Saturday night inside the International Buddhist Progress Society Chicago temple. Members gathered to give an early welcome to the Chinese New Year, and they also celebrated the grand opening of the temple's new building.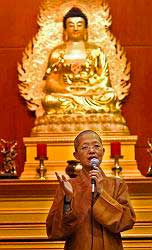 << Venerable Manpou, director of the temple of the Chicago International Buddhist Progress Society in Naperville, speaks to the group gathered for the annual meeting and Chinese New Year dinner Saturday at the new temple.
(Jon Cunningham/For The Sun)
Located on 5 acres along Route 53 in the unincorporated area between Woodridge and Naperville, the temple is housed in a former barn. With its renovation complete, members are welcoming the public to visit and learn more about Buddhism and Chinese culture.
"We want to utilize this to the maximum capacity in any way we can," said Venerable Manpou, Buddhist nun and director of the temple. "Come here, have some tea with us, have a chat, talk about anything. Treat it like a community center, like part of your home."
Like several of the speakers Saturday, Manpou spoke to the audience in both Chinese and English. The temple practices Mahayana Buddhism, typically found in China, Korea and Japan. IBPS Chicago is an affiliate of Fo Guang Shan temple in Taiwan and is now the spiritual home to about 200 members who come from as far as Highland Park and Chicago.
During the celebration Saturday, visitors were treated to a vegetarian dinner along with entertainment, including a Peking Opera performance, demonstrations and games.
The temple started "from zero a few years ago in very small apartment on Cass Avenue" in Darien, Chairman Yman Vien said. "What you are looking at is a complete turnaround from a ... barn."
Sitting atop the altar at the front of the temple are three large golden statues -- Buddha, Dharma and Sangha -- which together represent the Triple Gem. None of the other temples in the Chicago area has all three statues, said member Annie Chen.
While the statues are on an altar, members say Buddha is not worshipped, but is looked to for guidance on the path to enlightenment.
"Buddha is not a god," Yvonne Hammond of Naperville said. Rather, he is "an enlightened person who is helping us on our paths," she said. "We all have the potential of getting there -- to Nirvana."
Hammond began attending temple services two years ago. Having always been interested in Buddhism, she began taking lessons with Manpou. This summer, she officially became a Buddhist.
"I really believe in the principles and philosophy," she said.
Hammond said members are Humanistic Buddhists, which encourage followers to integrate the Buddha's teachings into daily life for the benefit themselves and others. It encourages reaching out to others through charity work and educating people about the Dharma -- the teachings of Buddha.
"It's all about helping people," Hammond said.
Meditation classes
IBPS Chicago is offering free meditation classes at its temple, 9S043 Route 53 in Naperville. Meditation classes in English start Jan. 27 and are held every other Tuesday from 7:30 to 9 p.m. Classes taught in Chinese begin Tuesday and meet from 7:30 to 9 p.m. every other week. Classes run for two months. Cultural classes also are offered. To register call 630-910-1243.