Prison ministries for Buddhists growing
By Maria Sudekumfisher, ASSOCIATED PRESS, November 25, 2006
LANSING, Kansas (USA) -- Lama Chuck Stanford started visiting a small group of Buddhist inmates in Kansas about six years ago. "Then word got around that that I was doing this," Mr. Stanford said, "and I started getting calls from prison chaplains around here telling me they had Buddhist inmates interested in getting groups going."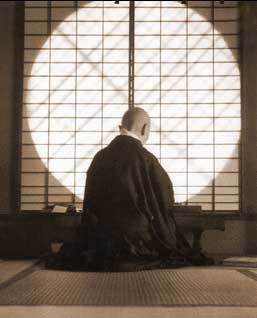 Now Mr. Stanford serves four prisons -- the Lansing Correctional Center, the U.S. Disciplinary Barracks in Leavenworth, and two state prisons in Missouri. He's on the road two days a week, most days serving groups of about 10 men at each prison.
He is among a quietly growing number of Buddhist teachers working in U.S. prisons, tending to inmates who had been raised Buddhist or who discovered the ancient faith later, many while incarcerated. U.S. prisons are also offering meditation and yoga for their general populations.
The Prison Dharma Network in Boulder, Colo., leads yoga and meditation and also sends books and correspondence to inmates nationwide. The Buddhist Peace Fellowship in Berkeley, Calif., has meditation, yoga and journal-writing programs in several California prisons, and the National Buddhist Prison Sangha in Mount Tremper, N.Y., has been supporting prison inmates since 1984 with visits, letters and reading material.
Kate Crisp, executive director of the Prison Dharma Network in Boulder, teaches yoga, meditation and peacemaker classes at the Boulder County Jail.
Her organization also teaches classes on meditation at the Lookout Mountain Youth Services Center in Golden, Colo. The facility is Colorado's only long-term maximum-security correctional facility for boys.
It took a couple years to convince corrections officials that Prison Dharma Network could be of some help at Lookout, Miss Crisp said. She said the youths at Lookout, who range in age from 14 to 21, "have never experienced anything like meditation in their lives."
"They've always been worried about 'Who's going to get me? Who's going to shoot me?' Now it's 'Oh my God, there's a place where I can relax. I have a choice.' It slows them down from the constant pounding in their heads," she said.
Kalen McAllister, director of Inside Dharma, a Buddhist organization in St. Louis that offers support to prisoners and recent parolees, makes visits to five eastern Missouri prisons. Her group is hoping to add all 23 Missouri prisons to its list of volunteer visit sites.
"We're not judgmental," said Miss McAllister, who allows anyone who expresses interest to take part in her sessions, which include prayer, discussion and meditation.
"For a while we had four Sufis, and we called them Su-Bu's," she said. "Then we had a Jewish man, we called him a Jew-Bu and then a Wiccan came to class and we called him a Wi-Bu."
Buddhism has no centralized authority, and its practices vary greatly worldwide, although meditation is a common ritual. The exact number of U.S. Buddhists is not known. However, the population grew significantly after the United States eased immigration rules in 1965, admitting millions of Asians. American interest in the faith spiked during youth rebellions of the same period, drawing many more followers who remain active today.
Buddhist Scott Whitney works as a staff prison chaplain in Washington state, ministering to people of all religions at the Stafford Creek Corrections Center in Aberdeen. While he has heard mostly positive feedback, he said some Christian inmates have questioned his faith.
"One of them said to me, 'If you're Buddhist, you don't even believe in God the Father, so how can you be our chaplain?' " Mr. Whitney said.
Mikel Monnett runs Buddhist services at the Southeast Correctional Center in Charleston, Mo. He has been making the two-hour drive twice a month from his home in St. Louis for about two years, and says he has seen a lot of personal growth among the Buddhist inmates.
"They still get thrown into the hold, but it'll be less often or not because they did something to somebody, but rather because someone did something to them," Mr. Monnett said of the inmates he teaches.
"They're learning about this gap, this freedom to decide whether or not to act."
Tony Farnan, 41, a former inmate, said Buddhism "has basically saved my life."
His route to the tradition began in 1999, during his third trip back to prison. Serving time for drug possession and burglary, he picked a fight with a young inmate, then was overcome with remorse.
"I thought, "What I want to do is, I want to be a man of honor and integrity, most of all,' " said Mr. Farnan, who at the time was sporting a swastika tattoo and another that said "White Trash" across his back.
Mr. Farnan, who had learned meditation while studying martial arts, began meditating and reading books on philosophy and Buddhism. He was eventually moved to a prison where a Buddhist group met regularly.
Mr. Farnan, who cares for his 95-year-old grandfather, makes a living repairing foundations. He's spent thousands of dollars covering up his tattoos.
"I decided if I really believe what I'm doing," Mr. Farnan said, "then I have to change everything, including that."