Tibetan monk makes sand mandala at Univ of Montana
by Carmen George, Montana Kaimin, October 23, 2009
Missoula, MT (USA) -- Thin lines of colored sand trickled from the end of a silver instrument resembling a narrow funnel held by Tibetan Buddhist monk Venerable Ngawang Chojor.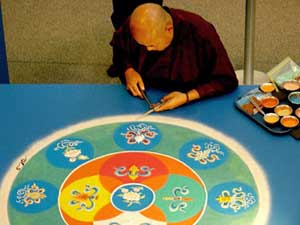 Outside the bustle of the UC Market Thursday, Chojor worked silently on a "compassion" mandala, an ancient circular art design made from colored sand, with a small gathering of students huddled around him.
"It quiets you for a while," said Valerie Hellermann, program manager of Helena's non-profit Tibetan Children's Education Foundation which brought Chojor to UM. "There are certain powers in symbols. He's making this in the process of meditation and prayer for the compassion of human beings and I think I feel that energy."
The mandala symbolizes universal qualities like harmony and balance, traditionally created by Tibetan Buddhists as a kind of meditation and healing. Chojor has been working on UM's mandala since Wednesday and will offer a blessing to the campus upon it's destruction at 4 p.m. Friday in the UC South Atrium. Traditionally, most of these sand paintings are destroyed shortly after completion to represent the impermanence of life. The sand is then returned to the natural world so the ideas the mandala represents can spread throughout the world.
Chojor's visit was set up as a pre-event for The University of Montana's fourth annual Day of Dialogue on Oct. 29, bringing campus and community members together to encourage dialogue and diversity with free educational sessions and art exhibits.
"That's a real start for dialogue, if we start to feel kindness towards others," Hellermann said about the compassion mandala.
Chojor became a Tibetan monk when he was 13 years old and studied the art of mandala ?making from the age of 17 to 25, said Karma Tensum, Chojor's translator and director of the Tibetan Children's Education Foundation. Chojor fled the country in 1959 at 25 years old when the Chinese took control of Tibet, spending most of his life as an exile in India's Namgyal Monastery, now home to the Dalai Lama. He moved to Wisconsin in the mid 1990s to help educate Americans about Tibet, and has created mandalas at places like the World Trade Center and universities across the nation.
Karma Tensum said Chojor chose to create the mandala of compassion, traditionally seen as the realm of a Buddha, for UM because it depicts the story of "a world that is in harmony."
At the age of 75, his work as a mandala artist is as much about sharing his culture as it is preserving it.
Tibetans can't practice their religion or culture within their country, said Chojor during a talk in the University Center Thursday night. His people aren't demanding independence from China, but they are looking for limited internal autonomy so they can practice their way of life, he said. The Chinese government views the Dalia Lama as a man trying to split the country, not as a Nobel Peace Prize recipient, he said. Tibet needs the support of other nations like the United States to help dialogue continue with China.
His presentation was followed with one by Hellermann on Tibetan history and oppression.
"They can't speak their own language in their own country; monks in the monasteries are often followed and tortured," Hellermann said, adding that an 83-year-old Tibetan man was given a 20-year sentence for making a copy of the Tibetan flag. He died in prison.
Chojor came to UM as part of larger tour with the Tibetan Children's Education Foundation that has been travelling with him to different universities around the nation to educate students about Tibet and the mandala. He'll make his 10th and final mandala for the tour in Bozeman next week.
"I hope a lot of students do take the time to look at it," UM junior Maghan Strachan said. "It's really cool that he's going to bless the university; we're pretty lucky."
TOP