Waller County acreage to become Buddhist living, education center
By RICHARD VARA, Houston Chronicle, May 6, 2005
HEMPSTEAD, Texas (USA) -- A line of colorfully robed monks slowly walked around a small altar adorned with a white statue of Buddha. They sprinkled water on the ground as chants and drums echoed over the green rural landscape.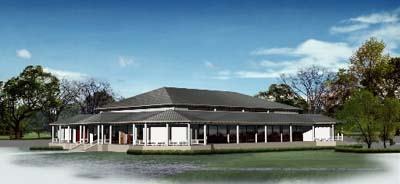 << Texas Buddhist Association
An artist's rendering of the meditation hall, one of several buildings that will be a part of the American Bodhi Center to be built in Waller County.
With that, the monks purified 515 acres of land that will become the American Bodhi Center, one of the largest Buddhist developments in the nation. Within two years, the Waller County site will feature a retreat center and short-term living quarters.
In the years to come, it will be home to a Buddhist college, a conference center, a convent and monastery and a housing development. It will help smooth the transformation of immigrant Chinese Buddhism into an American adaptation of the religion.
"There is a little, little fear inside of me about how I can manage everything," said the Rev. Hung I, co-founder of the Texas Buddhist Association and the visionary behind the center. The association promotes Buddhism in Texas and the United States.
"But fear does not produce anything," Hung I added with typical Buddhist wisdom. "I'll just do it little by little."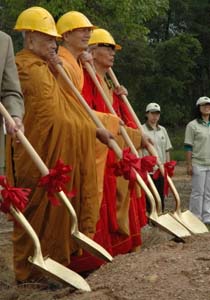 Buddhist monks break ground on the 515 >>
acre tract in Waller County that will become the American Bodhi Center. - Meenu Bhardwaj / For the Chronicle
The Buddhist principle of compassion sparked the idea of what has become known as ABC to its supporters, most of whom are members of Jade Buddha Temple in southwest Houston.
Built by immigrants from Hong Kong, Taiwan and Singapore, Jade Buddha Temple was at maximum capacity shortly after it opened in 1990.
"I noticed there were so many members," Hung I said. "They (were) still very healthy and very young, but what about when they got older? Who was going to take care of them?"
The monk found that most were not going to retire to their homelands. In visits to area nursing homes he found that many elderly Chinese were isolated because of language and culture, an isolation that was painful for him.
He also realized that the children of the immigrants were becoming Americanized and spoke English. And although the temple was geared to Chinese language and culture, increasing numbers of Westerners were attending dharma (Buddhist teachings) classes.
In 1994, Hung I took a yearlong retreat to reflect on his future and the future of the temple. He decided to stay in Houston with the temple but began soliciting ideas about how to resolve the worship center's growing pains. More than 1,500 families are now members.
The consensus among leaders was to search for a site that provided not only the worship and educational space but room for perhaps a home for seniors, camping facilities for youths and a Buddhist college to train nuns, monks and lay leaders.
The group purchased the Waller County land for $1.2 million in 2001, Hung I said.
Last weekend, they broke ground for a meditation center that will be surrounded by a lotus-laden pond. Dormitories for men and women will each house 60 people. Plans call for a dining hall, year-round camping facilities, nature trails, a Zen garden and cabins in wooded areas for meditation and retreats.
An organic fruit farm will help provide food for the monks and nuns and perhaps some revenue, the monk said.
A memorial hall for cremated remains is part of the plan. Chinese culture venerates ancestors, and priests and nuns make daily offerings to the spirits of the departed.
Hung I said the first phase will likely be followed by the construction of perhaps 20 to 30 residences for families who may want to live at the center.
"We will develop slowly, based on the needs of the public," Hung I said. A home for senior citizens is part of the design.
The American Buddhist college will be critical for the future of the center and the faith in the United States, Hung I said. However, the college is part of long-term plans and won't be realized for at least 15 years.
"(In the United States) we don't have enough monks and nuns," he said. "We need to have more monks, nuns or lay Buddhist teachers."
It is not enough to study dharma, he said, but to practice as well. The quiet rural area will provide the environment for meditation practice.
"You have to practice the dharma to gain experience and to improve yourself first," Hung I said. "Otherwise you are not able to teach."
It takes five to 10 years to develop an experienced teacher. And that teaching has to be geared to Americans.
"Your stereotypical American Buddhist is very different from your immigrant Buddhist from Asia who grew up in that tradition," said Sylvia Chiang, a member of Jade Buddha Temple who will attend medical school this fall.
"Asian Buddhists are very concerned about tradition and social networks," said Chiang, a graduate of Stanford and a former Peace Corps worker in Peru. While Buddhism does not teach belief in a transcendent being, many Asian Buddhists pray to Buddha, she said.
Many Americans see Buddhism as self-developmental psychology or a philosophical lifestyle, she said. "I practice Buddhism more the American way," Chiang said.
Hung I is accommodating the blending of the cultures by ordering an 8-foot-tall, bronze Buddha that will combine Western and Eastern facial features. The statue will be displayed in the new meditation hall.
The development of the center in rural Waller County has been welcomed by local officials.
State Rep. Glenn Hegar, R-Katy, whose district includes Waller County, praised the center and the Buddhist followers.
"It is such a blessing in any community when you have so many people who are respectful, humble and kind," said Hegar, who attended the groundbreaking. "If that doesn't bring goodness to the community, then I don't know what does."