Tularosa home to new Buddhist center
By S. Derrickson Moore, Alamogordo Daily News, April 6, 2007
TULAROSA, New Mexico (USA) -- It's the kind of rustic, hand-lettered sign you often see in the rural West, giving notice of a cattle crossing or the name of an isolated ranch. This sign offers directions "To the Buddhafield of Infinite Appearance."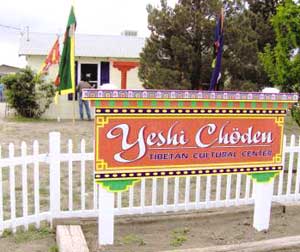 << The Yeshi Choden Tibetan Cultural Center is one of... (S. Derrickson Moore/For the Daily News)
It's just one indication of a growing presence of Tibetan interests in the rural New Mexican town of Tularosa, which is on track to become one of the world's leading centers of Tibetan culture and healing traditions.
Buddhists already come from El Paso, Las Cruces, Ruidoso, Alamogordo and the surrounding region to attend weekly practice, which includes meditation, lectures and social gatherings, at Orgyen Choling Tibetan Buddhist Center, 218 Schoeller Place in Tularosa. The center was established in 2004.
Plans are underway for a monastery and a "Tibetan village" showcasing the architecture and culture of an ancient civilization.
"This will be the North American seat of his Eminence Bhakha Tulku Rinpoche," said Jean McDonnell, a former Las Crucen who is administering three major Tularosa-based programs and developments under the guidance of Rinpoche, a lama, monk, teacher and spiritual leader who fled the Nyingma center of learning in Tibet in 1959 during the Chinese occupation.
Rinpochenow leads centers in St. Leo, Fla.; Garden Grove, Calif.; and Sneedville, Tenn. Tularosa will be his headquarters," McDonnell said.
And this month, the first group of regional school kids plan to tour the brand new Yeshi Choden Tibetan Cultural Center, which will house artifacts from Tibet and an ambitious program to preserve and practice ancient healing traditions and grow traditional medicinal herbs native to Tibet.
The new center, the Tibetan nonprofit's third major project in and around Tularosa, is named for Rinpoche's daughter, Yeshi Choden Lama, who died in a helicopter crash last year with 24 other prominent leaders of the World Wildlife Fund.
"Yeshi was a scholar and program officer with WWF Nepal. She held master's degrees in sociology and anthropology and coauthored publications in both English and Tibetan on medicinal plants, conservation of plant resources, ethnobotany and snow leopards," said McDonnell, leading a tour of the new cultural center.
Bright flags and Tibetan arches in primary colors make the center easy to spot. Out back is a field where a healing garden is being planted. Inside, workmen were putting final touches on rooms that include displays of books and colorful textiles.
"Lamas bring rare medicinal Tibetan herbs to Tularosa some already growing, others saved from China and India and are working with a naturopathic doctor here to save and preserve ancient healing traditions," McDonnell said.
Greg Nagkpa Pema Norbu Powers, a naturopathic doctor and acupuncturist who also holds degrees in agriculture and Buddhist philosophy, will oversee agricultural operations.
Goals include fostering cultural awareness and preservation of Tibetan traditions and "holistic, performing and creative arts," according to the group's mission statement.
McDonnell said the organization has found a positive response and a lot of interest from New Mexicans.
"We've had some lectures with standing room only," she said.
The group also has a retreat center in Grants, known as the Zuni Mountain Stupa.
There are reasons why an internationally known spiritual leader chose New Mexico, and Tularosa in particular, for projects aimed at preserving an ancient culture.
"He told me this area is a lot like where he comes from in Tibet. He loves the big sky and the mountains," said McDonnell, a native of Grand Rapids, Mich.
She has been a practicing Buddhist since 1982, and was a longtime resident of Las Cruces, where she exhibited her art and founded arts and crafts cooperatives before moving to Tularosa two years ago.
"I think I came to New Mexico because I wanted to live in the most unusual place I could find in the U.S.," she said, leading a visitor though a tranquil cluster of golden Buddha statues at the Orgyen Choling Buddhist Center, a few miles outside Tularosa. The serene meditation room also held a tray of colorful food and flower offerings.
"This is a little bit like an ofrenda, an altar," she said.
The public is invited to weekly practice at 10 a.m. Sunday at the Orgyen Choling Buddhist Center, and visitors and school groups are also welcome to tour the new Yeshi Choden Tibetan Cultural Center, both located in the Tularosa area. For information or to arrange for tours, call (505) 491-5194 or visit online www.orgyencholing.org.
If you go
* What: Yeshi Choden Tibetan Cultural Center
Where: 1310 Old Mescalero Road in Tularosa
Features: Tours, Tibetan artifacts, garden with traditional medicinal herbs native to Tibet, traditional healing information and practitioners, programs and lectures.
* What: Orgyen Choling Tibetan Buddhist Center
Where: 218 Schoeller Place in Tularosa
When: Weekly practice, meditation services, 10 a.m. Sundays, followed by tea and social time.
Also: Periodic lectures, retreats and special programs
* In the works: Monastery and Tibetan village in rural Tularosa
Info: www.orgyencholing.org, (505) 491-5194, (505) 585-3045