Different cultures unite for Buddha's birthday
by Venice Buhain, The Olympian, June 3, 2007
Olympia, WA (USA) -- A patchwork of colors, styles and cultures at Saint Martin's Pavilion on Sunday marked the 2,551st anniversary of the birth of the Buddha.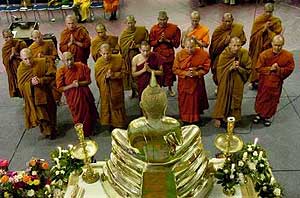 << Buddhist monks from all over the globe, including Sri Lanka, chant at the foot of the shrine honoring the birthday of the Buddha during an afternoon celebration Sunday at Saint Martin's Pavilion. Steve Bloom/The Olympian
It was the first time that the South Sound Buddhist temples and meditation groups got together to celebrate the birthday of Siddhartha Gautama, whose teachings led to the different forms of Buddhism today.
"We got together all the different cultures — Thai, Vietnamese, Cambodian, American — to celebrate Buddha's birthday," said Bhante Siyabalagoda Ananda of Buddhist Association of Olympia, which meets at the Lien Hoa temple. "When I got here 10 years ago, there was only Lien Hoa. But now there are about a dozen groups that practice Buddhism.
"Our special focus is to let people know how to practice Buddhism and apply it in daily life," Ananda said. "You don't need to be religious."
Ananda called up the different groups to organize the birthday celebration, including groups such as the Wat Prachum Raingsey temple of Yelm, which has services in Cambodian; the Seattle Meditation Center, which hosts retreats for young men and women; and the Olympia Meditators, which is an informal group that meets weekly.
"Our temple usually has its own celebration on the birthday; sometimes it will bring people from Tacoma and Kirkland," said Kunth Plong of the Wat Prachum Raingsey temple in Yelm. "Today, we're gathering together different nations to celebrate at the same time."
Bringing the groups together exposes different types of worship to people in the community and to each other.
"It's also here to show the community at large the differences between the traditions, too," Jeff Miles, a monk at Open Gate Zendo, said. "Our display is quite simple, but others are really brightly colored."
"The diversity of Buddhists is amazing," said attendee Nancy Sullivan, who leads a study and meditation group in west Olympia. "We tend to see our own little groups. It's good to see other people's interpretation of Buddhism."