New statues blessed at Buddhist temple
By Jennifer Torres, Record, July 14, 2007
STOCKTON, CA (USA) -- Seven angels watch over the garden at Wat Dharmararam Buddhist Temple. They are the protectors of the sea, the earth, the sky and the trees.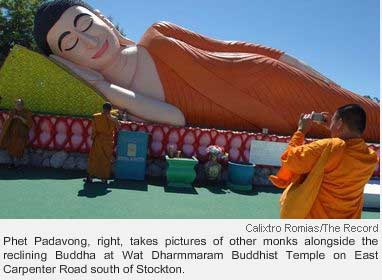 Built from wire and concrete and nine months of labor, the seven angels await blessing from the saffron-robed monks who preside over temple ceremonies.
The seven angels, each more than 10 feet tall, are the newest among the Cambodian temple's giant statues; most depict scenes from the life of Siddhartha Gautama, who would become Buddha. They represent artifacts of faith and culture for a refugee community whose religion was battered under communist rule.
The angels rest on white- and blue-painted concrete clouds spangled with pieces of colored glass. Their robes are orange and their headdresses jeweled.
They will join several existing statues. The first among them, a 100-foot-long depiction of Buddha on his deathbed, was begun in 2003.
"One of the monks, he had a dream, and he brought us out here and explained what to do," Sara Kun said.
The monk is Kong Tith, one of Kun's teachers. On Friday morning, Tith climbed into the lap of one of the angels with a piece of sandpaper.
Tith scraped at the statue's eyes. In a dream, Kun said, the monk learned that the eyes had been gazing in the wrong direction. Tith was correcting them.
"Before, his eyes looked like he was thinking," Kun said. "Now, he is giving a blessing."
Chanted prayers crackled out of speakers as Cheng Ken carried a tray of tea, coffee, sugar and sweet cream to a Buddha statue. He set the offering next to an urn that held incense sticks stuck in the sand.
Ken removed his shoes. He knelt and touched his head to the ground.
"It's very important for Cambodian Buddhists," Ken said after his prayer. "This is our custom. We must do a blessing."
Julie Vim, 9, played under a tent while her mother prepared sweets to sell at the blessing celebration.
"Look closely at them," Vim said, pointing to the statues. "I helped put some of the diamonds on."
--------------------------
Buddhist blessing
The public is invited to a celebration on the temple grounds today for the unveiling and blessing of the new statues at Wat Dharmararam Buddhist Temple. Festivities are scheduled to start at 8:30 a.m. on temple grounds, 3732 E. Carpenter Road, Stockton.