Tassajara monks practice Zen of firefighting
by Matthai Kuruvila, San Francisco Chronicle, July 10, 2008
Tassajara, CA (USA) -- Fires snaked through ravines Wednesday in the Ventana Wilderness to within 3 miles of the oldest Soto Zen monastery outside of Asia, forcing the evacuation of firefighters and threatening the only access road.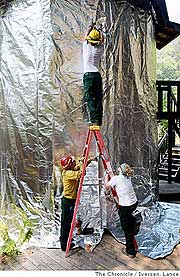 << Firefighters from an interagency crew from Indiana drape a Firezat fire shield made from aluminized material on one of the many buildings at the Tassajara Zen Mountain Center. Photo by Lance Iversen / The Chronicle
The historic Tassajara Zen Mountain Center was left in the care of a handful of monks and practitioners who have refused to leave and have been rigorously preparing for nearly three weeks for the oncoming fire.
Some Tassajara staff also decided they could do no more and left, said Capt. Chuck Dickson, an information officer for the Basin Complex Fire.
"They decided that they'd done all they could," Dickson said. "It was time to go."
The flight came as remaining Tassajara staff prepared themselves physically and mentally for fighting the fire directly. They were calm in the face of the latest evacuation order.
"We'll be moving more vigorously than usual," said the abbot, Myôgen Steve Stücky, as he watched staff practice rolling out new hose lines moments after firefighters fled. "And we'll be watching those tendencies to get overexcited. We'll stay calm and alert. We'll be ready."
Even as they stood at the fulcrum of two of California's largest wildfires - the Basin Complex and Indians fires - the staff at Tassajara saw the approaching blaze enriching their practice of Zen.
"We don't want to jump into the fire; we don't want to run from it either," said Joseph Schommer, 25. "We're peacefully aware of the fire and prepared for it."
Firefighters praised the monastery's fire prevention efforts. Rooftop sprinklers, jury-rigged with white plastic piping from a nearby hardware store, crisscrossed the tops of essential buildings. Arrays of hoses had been laid out across the property, ready at an instant for a flareup anywhere.
The holdouts had an assortment of fire response drills daily. Should the fire overrun their abilities, there is an emergency shelter, a stone building that was once the monastery's meditation hall. Inside sat supplies, including oxygen tanks.
The monastery was built on a site that had been a place of healing for indigenous peoples before it was rediscovered by settlers in the late 1800s. They made it into a resort, with natural hot springs as an attraction.
In 1967, it was made into a monastery for practitioners of Soto Zen, the larger of the two traditions of Zen Buddhism practiced in Japan that both originated in ninth century China.
Tassajara is now one branch of the San Francisco Zen Center, which includes a city headquarters, Green Gulch Farm near Muir Beach and Greens Restaurant in San Francisco.
The nearly three-week closure is having dire consequences on the Zen Center. Summer retreats at Tassajara fund roughly one third of the entire Zen Center's annual budget, said David Zimmerman, Tassajara's director.
Tassajara staffers have fought off various wildfires, including the 1977 Marble Cone Fire, the largest fire to date in the Big Sur region. And fire response drills have been part of staff culture for decades. They have constructed an elaborate pump and hose system, which, at a moment's notice, pumps water out of storage tanks as well as from Tassajara Creek.
"We have an infinite amount of water for firefighting," said Devin Patel, 28, the latest in a long line of staff fire marshals.
Zen practitioners here have long understood that fire is not only a part of the region's landscape, but also an integral part of their spiritual experience. The reason they're out there - to be in closer contact with the harmonious balance of nature - includes the fire.
"Fire is not a stranger," said Stücky. "It's telling us to be here in accord with the reality of fire ... we're not really fighting the fire. We're meeting the fire, letting the fire come to us - make friends with it and tame it as it reaches our boundaries."
Schommer said the fire had strengthened his spiritual practice. Clearing the brush meant creating places where fire could not burn. He called it a parable to the mental practice of Zen meditation, where you clear the mind from external thoughts burning through.
"Before this, I was floundering," he said. "This has been an awakening for me."
The Basin Complex Fire, which extends to the Big Sur coast, is the biggest of the state's 323 active blazes. It is now 27 percent contained. It has burned more than 85,000 acres in the Los Padres National Forest since it was touched off by lightning on June 21.
The Indians Fire is expected to be 100 percent contained today.
At 10 a.m. Wednesday, the last stretch of coastal Highway 1 south of Big Sur that had been closed was reopened to residents and service workers. Also lifted was a mandatory evacuation order for residences along a 12-mile stretch of Highway 1 from Julia Pfeiffer Burns State Park, about 37 miles south of Carmel, south to the town of Lucia.
Residents of the main resort area of Big Sur were allowed to return Tuesday.
Highway 1 is still closed to tourists and other nonlocals from Palo Colorado Road north of Big Sur to Lucia. There is no estimate for when it will be fully reopened.
---
LATEST UPDATE
Exclusive to the Buddhist Channel
The blaze reached the monastery, at 5:30 PM July 10, the remaining students packed up the last cars and left. Subsequently, it was learned that by leaving they might not be able to get back if the road was closed.
Evacuation is voluntary but fire fighters can prevent return to property. So five people in the last car turned around and went back to Tassajara, including Abbot Steve Stucky.
The initial hit from the fire passed by. Tassajara Zen Monastery lost a few buildings — including the birdhouse, and a bathroom by the pool — and the part of the lower garden. The monks and students have joined in putting out occasional spot fires. All concerned are very relieved that the fire has passed and their friends are safe. For more info: http://sfzc.org.
Colin Gipson, Danny Parker and David Zimmerman contributed to this update.
TOP