BYU students 'Zen Mormons' after retreat
By Andrew Marshall, Mormon Times, Dec 1, 2008
PROVO, Utah (USA) -- Zach Elison and Brandon Habermeyer consider themselves Zen Mormons. This blend of theology and philosophy stemmed from their experience at a two-week-long Buddhist retreat.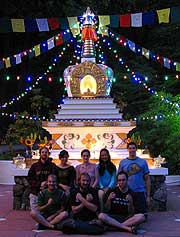 << BYU students Zach Elison, front row left, and Brandon Habermeyer, right, spent two weeks at a Buddhist retreat in California with others to explore the religion's teachings. (Photo by Christian Cowen)
"They have things to teach us," Elison said. "Everything I love about Buddhism I find in my own religion, they just emphasize it differently."
Habermeyer and Elison, both philosophy majors studying at Brigham Young University, got a tip from a world-religions professor at school about the retreat.
They spent two weeks in July under the towering Redwoods of Santa Cruz, Calif., learning and practicing some of the teachings of Buddhism.
"I've always held this really strong conviction that truth is not monopolized by any one particular group of people," Habermeyer said. "I'm an explorer of truth wherever I can get it."
Buddhists emphasize taking care of the body, the earth and others. They extract spiritual principles from every experience in life.
"I've always believed that spiritual truths are embedded in everything in our surrounding," Habermeyer said. "The universe is constantly singing its song to us. Are we seeing what it wants us to see?"
The Buddhist religion also places a strong emphasis on "bodhicitta," or charity.
"I was so surprised about how their religion is geared toward charity, helping everyone," Elison said. "Prior to this (retreat) I thought it was for their own enlightenment; not the case. In order to grow spiritually, we have to help others."
The two BYU students spent hours each day meditating, beautifying the land, eating vegetarian meals and "blissing out" with their Buddhist instructors. They had a chance to give out copies of the Book of Mormon and share with the Buddhist instructors and fellow students about Jesus Christ and the restoration of the LDS Church.
Both still apply what they learned on the retreat.
Habermeyer said he learned from the Buddhist law of interdependence and gratitude.
At each meal, after eating, they meditated over how the meal came about. They thought about the farmer who planted and nurtured the seeds, the manufacturing company that took the food and packaged it, the person who bought it and the person who prepared it.
"You have a moment of silence after you eat," Elison said. "My salad is the whole world. It's all connected."
"They're so serious about it," Habermeyer said. "Everything is so spiritual to them. It resonates."
Elison said he learned to be "gentle" with himself and others because of his experience at the retreat.
"Getting a chance to practice the meditation that I learned there, it calms my life down, it calms myself down. Just turn off the iPod and cell phone," Elison said. "I understand how much God loves his children now. Be gentle with everyone and their own beliefs. Everyone is seeking after something to make their lives better."
TOP