Gardena Buddhist Church Boasts Largest Obon Festival in Southern California
By TAKESHI NAKAYAMA, Nichi Bei Times, June 18-24, 2009
GARDENA, Calif. (USA) -- Gardena Buddhist Church will observe Obon — the annual Japanese Buddhist festival which has evolved to a celebration where families honor their ancestors with and joyous dancing — on Saturday and Sunday, Aug. 1- 2, announced the Rev. Naomi Nakano.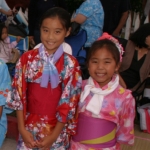 Gardena's Obon Festival — the largest of its kind in Southern California — will feature the popular Bon Odori dancing that will take place on the blocked-off street just east of the church grounds from 7 p.m. both nights. The event will also include a carnival (Saturday 3 to 10 p.m., Sunday 2 to 9 p.m.) with games, food booths, and Bingo, as well as produce, books, arts and crafts for sale.
Mitzi Shimizu, dance instructor for the Gardena Obon Festival, said, "Gardena attracts the most people for the Obon dance because we are the last Obon of the summer in the Los Angeles area, so people who enjoy the dancing come here to get the last dance in for the year. By last year's count, we had at least 1,000 people dancing. The dancers were from the various Buddhist temples plus members of the public."
Every year Gardena adds one new dance number "just to make it interesting," Shimizu said. "This year's new dance is "Kawachi Ondo," and its origin is from the Osaka area of Japan. It's a traditional Obon dance they do every year. We basically start with about eight dances and sometimes we add a few extra dances that we all enjoy doing."
In the Southern California area, there are 18 temples of the Jodo Shinshu school and they all get together to learn the same dances, she explained. "That's why we're all able to join in and dance at each other's Obon festivals."
The most popular dance from year to year is the "One Plus One (Ichi Tasu Ichi) Ondo," she noted. "It's cute with a nice melody and rhythm and fun to dance to. Another very popular dance is "Shiawase Samba" that was recorded and choreographed by Rev. Otohashi from Osaka. It has happy movements that young people seem to enjoy. And I think everybody enjoys the traditional "Tanko Bushi," the coal miner's dance from Kyushu."
Most of the temples have a carnival associated with the Obon festival, Shimizu added. "Popular foods include the sushi prepared by the Fujinkai, teriyaki chicken and Okinawa dango."
Councilman Ronald Ikejiri, a member of the Gardena City Council whose family is active in the church, stated, "The Obon Festival is probably the most appreciated event in the city, not only because of the significance of Obon as an observance and remembrance of those who have passed away, but also because it brings together the community. Whether it's Japanese Americans, Hispanics, African Americans, Vietnamese, Chinese, or the community as a whole, they all come together for the Obon festival."
Ikejiri attended Gardena Buddhist Church and attended its Japanese language school for nine years. "Of course I will be there (at the Obon Festival)," he declared.
Gardena Buddhist Church plays a major role in the community, he said, in "providing not only a spiritual and religious center, but also a Japanese language school and cultural educational classes for people in the community."
Gardena Buddhist Church opened in 1926 with help from about 270 Issei farming pioneers who pledged $3,000 to cover construction costs. Previously, Los Angeles-based Nishi Hongwanji had sent a Jodo Shinshu minister to officiate at monthly family services for the growing Japanese community in the Gardena Valley.
While Gardena Buddhist Church, continues to help preserve and nurture the Japanese and Japanese American culture, Rev. Nakano disclosed that her church currently has about 750 members, down from its peak of at least 1,000 members a decade ago. "Like all religions, we hit snags. We have had a decline, slowly, for the last 10 to 15 years."
Part of the decrease in membership at Gardena Buddhist Church may be because there are fewer Nikkei in the area.
Gardena, incorporated in 1930, is a city of 5.9 square miles. In 1970, Japanese Americans comprised 20 percent of the city's population, while 1990 Census figures showed that Nikkei made up 17 percent (Asians accounted for 31.5 percent) of the total population of 53,900.
Today, Gardena's 60,000 residents are closely divided among Asians, Whites, Blacks and Latinos. Asians make up about 26.8 percent (Asians combined with other races comprise 28.8 percent) of the population, according to the city's Website. Among Asians, Nikkei currently account for 11.6 percent of the total residents, followed by Koreans (6.2 percent), Filipinos (3.3 percent), Vietnamese (2.4 percent) and Chinese (1.6 percent).
The Gardena Buddhist Church will hold its Obon Dancing and Carnival on Saturday, Aug, 1, and Sunday, Aug, 2, at 1517 W. 166th St., in Gardena. Dancing will begin at 7 p.m. on both nights. The carnival's hours are Saturday, from 3 to 10 p.m. and Sunday, from 2 to 9 p.m. For more information, call (310) 327-9400 or visit www.gardenabuddhistchurch.org.