Obon festival continues tradition in Visalia
By Brett Wilkison, Visalia Times Delta, July 17, 2009
Visalia, CA (USA) -- More than 2,000 years ago, in what is now India, the Buddha gathered his followers and told them to celebrate their ancestors. According to Buddhist lore, the monks kept to their solemn rituals, while the civilians danced.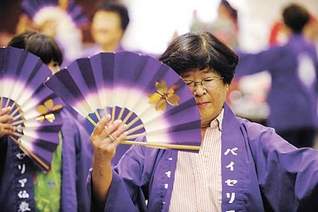 << Aiko Hasebe practices a Japanese folk dance during rehearsal for Sunday's Obon festival at the Visalia Buddhist Church. (Ron Holman)
Now, two millenniums later on a different continent, the Obon festival, or "gathering of joy" that was popularized in Japan and includes a mix of East Asian culture and folklore, has taken root in the Central Valley.
July features a string of weekend festivals, from Fresno and Fowler to Parlier and Reedley. Visalia's event, now in its 28th consecutive year, takes place Sunday night at the Visalia Buddhist Church.
Like the other local gatherings, the night will include a solemn ceremony remembering loved ones lost, outdoor processional dances underneath colorful globe lanterns and performances by traditional taiko drummers.
An important annual fundraiser, the festival is open to all, regardless of religious background. Admission is free, while a pre-performance meal and treats are for sale.
"It's multiethnic, laid back, just an easy evening where everyone has a relaxing time," said the Rev. Jo-Ren MacDonald, the church's spiritual leader.
Cultural touchstone
Yearly Obon celebrations started in the United States as far back as the late 19th century. In the Central Valley, they date to at least the 1950s, and since then they've become a special cultural touchstone for the Japanese community.
"It's like a family get-together," said Ellen Tanimoto, president of the Visalia Buddhist Church. She and most of the temple's other performers are attending every festival in the area, starting with Fresno's, which was Saturday. Performers at the other festivals will do the same for Visalia, she said.
"We join together, the whole Central Valley, to celebrate," she said.
Rehearsals and relaxation
Preparations for the Visalia festival have been under way since June, when the temple's two dozen dancers started rehearsing two times a week.
They'll perform 12 dances, each set to songs that celebrate hometowns around Japan and chronicle the toil of their workers.
A favorite continues to be tanko bushi, or the coal miner's dance: The dance is set to a catchy tune, and performers act as if they're pushing carts around in a circle and shoveling coal over their shoulders.
"People catch on very fast," said Susie Yamashita, 74, a dance instructor who last year saw hundreds of performers veterans and newbies alike ' circle around the temple's outdoor stage.
"No matter what mood you're in when you come here, you're going to go home relaxed," the Rev. MacDonald said. "That's our gift: We make people feel better."