Construction of controversial Rowland Heights Buddhist temple underway
ROWLAND HEIGHTS, CA (USA) -- A once vehemently opposed Buddhist temple and retreat center that caused shouting and shoving matches at county hearings seven years ago is finally getting built.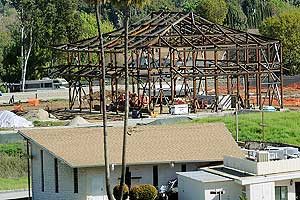 << The California Yuan Yung Retreat Center is being built next to the Hillside Community Church of the Nazarene on Fullerton Road in Rowland Heights on Thursday February 3, 2011. The Buddhist Retreat Center, which was hotly contested by residents in 2005, is being built on Fullerton Road just north of Pathfinder Road on an eight-acre lot between two Christian churches. (SGVN/Staff Photo by Keith Durflinger)
The Los Angeles-based California Yuan Yung Buddhism group's proposed project at Fullerton and Pathfinder roads in Rowland Heights was approved by the county in April 2005.
At the time, hundreds of residents said the temple would disrupt the rural atmosphere, increase traffic and contribute to the abundance of churches in the area.
"A lot of the original ruckus had to do with the fact that many residents felt Rowland Heights was becoming the church capital of California," said resident Ted Ebenkamp. "The county really has no option but to approve all church development proposals because of the requirements of the Religious Land Use Act. We have done our best to educate residents to that fact."
As a compromise to disgruntled residents, temple officials appealed their own approved project with scaled down designs a few months later.
They agreed to remove dormitories, add parking spaces and increase safety on Pathfinder road by proposing to install a traffic signal.
"They were very considerate of what their neighbors wanted, but it's taken them a long time to get going," said Beth Hojnacke, president of the Rowland Heights Community Coordinating Council.
Temple members had estimated completing the 55,000-square-foot facility on the 7.5-acre lot sometime between 2007 and 2009.
However, construction for the $8 million worship center has been off and on for the past three years, with temple officials continually extending their conditional use permits until more money comes in.
"It's taken so long because one, the weather has not been good, and we don't have funds," said Diguan, a nun from the Buddhist group. "Now the economy is so bad, so it's difficult to raise funds."
Contractors have finished the grading and are laying down the foundation and roofing for eight of the 14 buildings, including the main shrine, she said.
A completion date has yet to be set.
The project has been in the works since 1998, when the organization first applied to relocate and build the worship center in the San Gabriel Valley area, where most of its 700 members are from, officials said.
It faced much public opposition after a six-year moratorium on church-building was lifted and the public hearings began.
Originally consisting of 15 buildings on almost 60,000 square feet of land, the facility included a 50-foot tall main chapel, mediation hall and four dormitory buildings, which many considered a hotel since it would have allowed for up to 58 overnight guests.
"Some of the structure they had planned were really tall and right next to people's backyards," Hojnacke said. "Neighbors wanted more privacy."