Health, wealth and vegetables
by Thomas Hale and Sarah Marsh, China Daily, Oct 21, 2012
Wuhan, China -- Religion and ancient customs all play a part when the Chinese opted for a meatless meal in the past. But now, as Thomas Hale and Sarah Marsh find out, the reasons are often much closer to heart.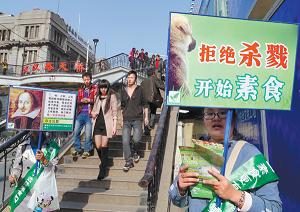 << The eat-more-vegetables, kill-no-animals movement is gathering strength across China, like this outpouring of support in Wuhan city, Hubei province. [Photo by Deng Jia/for China Daily]
Vegetarianism is not new to China. When times were harder, rural communities ate mostly roots and greens, with meat slaughtered only on festive days.
With the spread of Buddhism, many Chinese adopted a meatless diet, often subscribing to the belief that all life is sacred and should not be taken.
Even those who do not take to vegetarianism full-time would go meatless on the first and 15th of each lunar month, these being sacred days, especially for those who worship the Goddess of Mercy.
No meat is served on certain days of the Lunar New Year as well, to accumulate good karma for the coming year.
According to John Kieschnick, reader in Buddhist studies at the University of Stanford, there are important religious traditions related to Chinese eating.
"In ancient China," he says, "Most of the instances of vegetarianism were a symbol of renunciation for a period of mourning upon the death of a parent. Buddhism also played a large role in the kind of altruism associated with vegetarianism, and eating meat at certain times came to be connected with bad karma."
Some of these influences survive today, although they are only one ingredient in the vegetarian melting pot.
China's status as a developing country means that social attitudes to meat are changing extremely quickly.
Yue Miao, 42, a journalist in Beijing who has been a vegetarian since 2005, told us that when her parents were growing up in the 1950s and 60s they could expect to eat meat perhaps once a year.
Over decades of economic growth, meat has come to be seen as a symbol of material prosperity.
Now, though, China, especially in its wealthier provinces, may have reached the stage where meat consumption is widespread enough for it to no longer carry the same weight as a symbol of success.
Great advances in infrastructure and logistics mean that many more kinds of food are easily accessible to ordinary people, and this certainly includes vegetarian cuisine.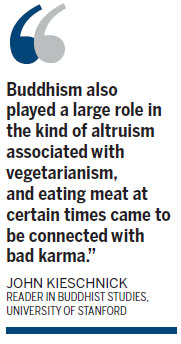 Western influences on Chinese vegetarianism are also being manifested, often in tandem with and related to these symbols of progress and increasing wealth.
It is no coincidence that vegetarianism has seen such success in wealthy Western nations where the social prestige of regularly eating meat has long worn off.
Laura Fanelli opened her restaurant The Veggie Table about one year ago. Idyllically situated in a hutong opposite the Yonghegong Lama Temple, it may be tempting to identify a Buddhist vibe running through the establishment.
Yet according to Fanelli, The Veggie Table is not motivated by any spiritual agenda, but instead by reasons such as food safety. In her opinion, there are simply "no arguments in favor of eating meat".
Health concerns about food in China over recent years are a major factor in the number of people now turning to vegetarian alternatives.
Fanelli's own vegetarianism is motivated by a strong belief about the personal health benefits it entails.
The Veggie Table's clientele are a mixture of men and women, and are made up of expats and foreign tourists along with local Chinese.
Health is perhaps the major factor in the rise of vegetarian restaurants and lifestyles in China.
The groundbreaking study on health, The China Study, published in 2004, gathered research in the 1980s from 130 Chinese villages across many regions and counties, and used it to draw radical conclusions about the effects meat and dairy products can have on our health.
The study, directed by Cornell University, also included a research team at the University of Oxford headed by Sir Richard Peto and a team at the Chinese Academy of Medicine headed by Li Junyao. China Daily spoke to one of its authors, T. Colin Campbell, the Jacob Gould Schurman Professor Emeritus at Cornell University.
"It is not only meat that causes health problems but dairy and eggs as well," Campbell says. "It is the collective activities of many nutrients in these foods that increase heart disease, diabetes, obesity, many cancers and other diseases."
This research remains a source of controversy in the West, but its importance is beginning to be understood in China; the text itself was mentioned by Wang Rui and other vegetarian restaurant owners in Beijing.
Campbell also acknowledges the social currents at work, suggesting that in developing countries meat and other high-fat products "indicate social status for many people".
In China, as elsewhere, this kind of status is still of huge importance. However, the costs to healthcare systems, and the environmental damage caused by consuming high-fat, high-protein diets may be significant.
The recent rise in vegetarianism is just one of the many factors that indicate an increased awareness of healthy eating in China.
In some respects, this narrative conflicts with a desire for more wealth and the very best standard of living typical of a rapidly developing economy. Campbell, however, points toward winds of change, saying that he senses an increasing awareness of the importance of health over wealth.
"They are beginning to become aware that spending one's lifetime acquiring money is of little or no value if one gets sick and dies early."