Mirror neurons bring science closer to Buddhism
By Janaka Perera, Asian Tribune, Sept 4, 2008
Colombo, Sri Lanka -- Buddhist perception of the mind and existence as reflected in modern medical science was among the main topics discussed at the two-day Fourth National Conference on Buddhist Studies held at the All Ceylon Women's Buddhist Congress Hall, Colombo 7 on August 30-31.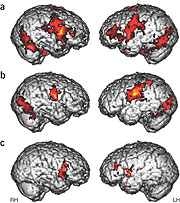 The Buddhist Times and the Pali University of Sri Lanka organized the event in association with the Bodu Sahana Aramudala (Buddhist Relief Fund). Guest of Honor was Professor Emeritus N.A. Jayawickrema.
Among the conference highlights was a talk on the 'Concept in Buddhist Philosophy and its Neurological basis' by Indian Neurosurgeon Dr. S.V. Prabhu, Neuro Surgery Department of the Western India Institute of Neurosciences, Kolhapur, India.
He said that humans had a template for compassion and therefore the need was to make it a 'temple.' In the case of human emotions such as pity, sympathy, empathy and compassion the last was the most positive while pity was a negative feeling. Mirror neurons, he stressed, helped a person to feel another's emotions, like pain or pleasure.
He observed that humans as highest evolved living beings on this planet were equipped with tools of compassion in our brain. Mirror neurons are a concept that is revolutionizing psychology and philosophy, according to Dr, Prabhu who has established the correlates of Buddhist concepts in neurosciences.
Delivering the inaugural address titled, 'The Buddhist Psychology of Ideologies.'Professor Emeritus Y.Karunadasa, Visiting Professor in Buddhist Studies, University of Hong Kong, said:
"Individual existence is a process of functionally interdependent mental and material phenomena, all in a state of constant flux. Within the empiric individuality there is no independent self-entity, spiritual, mental or material, which is impervious to change. Nor is there a soul in the form of spiritual essence which relates to a transcendental reality. This is where the Buddhist view of individual existence radically differs from all other religions"
Prof. Karunadasa denied that empiric individuality – as materialism claims – a pure product of the earth. He said that Buddhism rejected the materialist notion that individual existence is a result of fortuitous circumstances and that it is subject to abrupt termination. The professor pointed out that it is through the doctrine of dependent origination that Buddhism sought to explain moral responsibility and the uninterrupted life-series in samsara (the cycle of birth, death and rebirth).
He noted that materialism resists the belief in survival after death because of its fear of moral retribution, for this view gives an open license to live our lives without being burdened by a sense of moral responsibility.
Speaking from a Buddhist point of view, Prof. Karunadasa warned against attachment to ideologies which he stressed was much more detrimental and fraught with more danger than our inordinate attachment to material things.
"Inter-religious wars wrongly referred to as Holy War are a case in point. The cold war between capitalism and communism which nearly brought to the world to the brink of disaster is another case in point."
Dr. Priyanjali De Zoysa, Psychological Medicine Department, Faculty of Medicine, Colombo University, said that although a majority of current psychotherapy techniques were based on Western (Judeo-Christian) psychological theories and research, the Western world's growing interest, since of late, had led Buddhist practices to be incorporated into standard Western psychotherapeutic techniques. Mindfulness Based Cognitive Therapy (MBCT) was one such psychotherapeutic technique.
"MBCT is based on the technique of Vipassana meditation as propounded by the Buddha more than 2500 years ago," she said.
According to her MBCT has gained considerable acceptance in the Western world, especially in the treatment of depression and psychological distress associated with chronic physical illness. Regrettably up to now MBCT – despite its Eastern roots - has not been reportedly practiced in Sri Lanka, except in rare instances like the case of a 29-year-old woman who was diagnosed with a Depressive Disorder and Borderline Personality Disorder. MBCT was used on her with a favourable outcome. However Dr. De Zoysa warned that MBCT can used only for certain psychological illnesses and that too by a qualified mental health professionals who are trained in psychological assessment and who themselves are regular Vipassana meditators.
Professor G.A. Somaratne, Department of Pali and Buddhist Studies, Peradeniya University - speaking on 'Know Macrocosm to Know Microcosm: An Early Buddhist Perspective' - said that the vastness of the cosmic space are located innumerable numbers of worlds. In this vastness, the human population formed a minority that could be compared to a little soil taken by one's fingers and the non-humans to the rest of the soil on the earth. In comparison with cosmic time, the life span of humans could be compared to a line drawn in water.
"Yet in this cosmic context, as the Buddha points out, humans have a unique position for they alone enjoy the rarest privilege of easy accessibility to Nirvana."
Professor Kusum de Abrew, Dr. Chamari Weeraratne, Dr.Sulochana Wijesundera, Dr. M.W. Gunathunga, Professor Hemamali Perera and R.L. Ihalamulla of the Faculty of Medicine, Colombo University focused on the 'University Students' Perception on an
Informal Education Programme based on the Noble Eightfold Path for Personal Development.
Other speakers included Dhammananda Bhikkhuni (The Connection between Ego-consciousness and Unsatisfactory Experiences), Dr. Premakumara De Silva (Kings, Monks and Pre-colonial States), Dr. Hema Goonatilake (Paul Carus A Key Figure in East-West Buddhist Discourse), Professor Nimal De Silva (Bodhisativa Avalokiteswara and Maitriya in Sinhalese Buddhism) Professor Anura Manatunga (The Buddhist Revivalism and Antiquararian Activities in 19th Century Sri Lanka), Sriyani Sathurusinghe (The Influence of Colonial Contacts on Buddhist Architecture), Commander N.G.A. Fernando (Indian Ocean Sea Faring in the Context of Buddhism and Trade), Dr. M.W. Gunathunga (Effectiveness of Eightfold Path in transforming Discriminate Consciousness to Pure Consciousness: A Qualitative Self-Inquiry) Chandrasoma Rajapaksa (The 'Intentional Stance' of Daniel Dennet and the 'Two Realities of Theravada Buddhism), Venerable Dr. Wilegoda Ariyadeva (The Buddhist Analysis of the Concept of Kaama and Sexual Desire), P.R. Vasantha Priyadaharshana (The Buddhist Input for the Development of Psychotherapy) and Dr. Susantha Goonatilake (Anuradhapura as Theocracy: Good Archaeology, Bad Sociology), Venerable Dr. Neyambala Dhammadassi (Development, Environmental Pollution and Buddhist Ethics), Venerable Dr. M. Dhammajothi (Is 'Sunyata' Unknown to Pali Buddhism) and Ramani Samarasinghe (Changing Faces of Religious Colonisation)
The two day's sessions were chaired by Venerable Professor Gallage Sumanasiri and Professors G.A. Somaratne, Nimal de Silva, Mendis Rohanadeera, Oliver Abeynayake, Kusum De Abrew, Hemamali Perera and Daya Edirisinghe.