Tzu Chi sends help to victims of typhoon Yolanda
by Lineth Brondial , Tzu Chi Foundation, 11 November 2013
Manila, Philippines -- The Buddhist Compassion Relief Tzu Chi Foundation, Philippines is giving help to the victims of typhoon Yolanda (Haiyan), considered one of the strongest tropical cyclones ever recorded in history.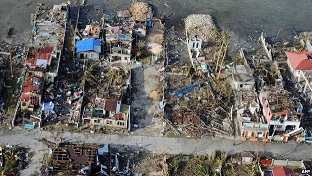 << Three days after Typhoon Haiyan hit, aerial photos are revealing a scene of apocalyptic devastation along a swathe of the central Philippines.
On Wednesday, November 13, volunteers and staff members from Tzu Chi Foundation Philippines will conduct initial surveys, immediate relief operations, and medical mission in Leyte.
As for its initial relief drive, Tzu Chi Foundation Taiwan is extending thermal blankets and instant rice intended to benefit 30,000 individuals. These P50-million worth of goods will be airlifted by Taiwan's military plane, which is expected to arrive tomorrow, November 12.
According to reports, more than two million people are affected in 41 provinces in Regions IV-A, IV-B, V, VI, VII, VIII, X, XI, and CARAGA.
In these areas, severe damages are recorded in Tacloban and Ormoc City, Leyte; Bantayan Islands, Cebu; Antique; Iloilo; and Giporlos and Guiuan, Samar. The Philippine government has placed Leyte, Iloilo, Antique, and Negros Occidental under a state of calamity.
Death toll continues to climb as rescue operations are still ongoing.
More than 100,000 families are displaced. Hundreds are missing and thousands are injured. Widespread damage to infrastructure is seen across the region.
These are the heartbreaking images left by super typhoon Yolanda, which battered several parts of the country with strong winds and storm surge on November 8.
Upon learning about the disaster, Tzu Chi founder Master Cheng Yen offers her heartfelt sympathy to all typhoon victims. The Dharma Master urges everyone to be vigilant and reach out to the needy especially at these times of great need.
To reach out to more victims, the foundation hopes to gather everyone's love and kindness by giving monetary and in-kind donations. Please call 732-00-01 local 211 or 223 or click this link for your donations.
http://www.tzuchi.org.ph/newsite/index.php?option=com_content&view=category&layout=blog&id=145&Itemid=533
TOP