Buddha statue in bar upset people
WebIndia123, February 12, 2006
Dubai, UAE -- Buddha bar, the popular French bar, which has an outlet in the Grosvenor House hotel here, has upset hundreds of Buddhists by placing an eight-foot tall statue of the sage and founder of Buddhism inside the bar.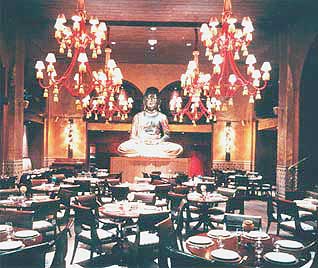 << A Buddha image inside "Buddha Bar"
The Buddhist population here, mainly from Sri Lanka, Thailand, India and China, see this as a gross misuse of their Lord's name and his teachings and they look up to their governments to take up the matter with the authorities here.
''No Buddhist will be happy about a place that serves liquor and has Lord Buddha's statue and Buddhist artefacts around,'' Sunil Chandrakumara, a Sharjah-based Sri Lankan national and community worker told the Gulf Today daily here.
He also said, it is ''extremely painful'' to see the Buddha's images being misused and referred to a local furniture retailer using Lord Buddha's image to advertise its wares.
When asked Jaideep Bhatia, marketing manager of the hotel, told the daily, ''I have no comments to make at this stage,'' and said, there are many Buddha Bar outlets in the world.
Buddha Bar was created by Raymond Visan in Paris. The bar shot up into the popularity charts for the food, the ambience and the lounge music from DJ Claude Challe as the crossover music caught the fancy of the upwardly mobile.
Danushke Sanjeewa, also a Sri Lankan national, said it may not be easy to tackle an international chain like Buddha Bar. ''We may not be able to take them head on, but can at least register our protest and reveal our feelings over misusing Lord Buddha's image,'' he said.
He added that it was difficult to fathom how a place like Dubai that does not have a Buddhist temple has allowed a bar named so obviously after the Buddha.
''I hope the authorities will at least get the Buddha statues removed from the bar,'' he said.
Mr Sanjeewa added that the eight-foot tall statue of Buddha is used as a showpiece in the hotel.
An Indian expatriate Jagan Rao said the whole thing is in bad taste. ''People should realise their moral responsibility in not hurting religious sentiments of anyone so as to develop a healthy societ,'' he said.
In the backdrop of the storm raised over the cartoons of Prophet Mohammed, published in a Danish newspaper, Buddhists here hope that the authorities will act to ensure that the followers of other religions do not feel insulted in this cosmopolitan city.
TOP