Dalai Lama says happy to meet Hamas
By Allyn Fisher-Ilan, Reuters, Feb 15, 2006
JERUSALEM, Israel -- The exiled Tibetan god-king Dalai Lama said on Wednesday he would be happy to meet members of the militant group Hamas but acknowledged it may be too soon for Israel to talk to the Palestinian election winner.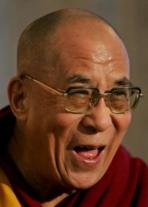 Starting his fourth visit to Israel and the Palestinian territories, the Dalai Lama urged Israelis and Palestinians to abandon violence and be prepared to resume a dialogue after Hamas's landslide victory in the Jan. 25 parliamentary election.
Israel and the United States have vowed not to talk to Hamas until it renounces violence, recognises the Jewish state and honours interim peace agreements. Hamas's charter calls for Israel's destruction.
"The time has come to think, to try to find a solution through dialogue based on mutual respect," the Dalai Lama said.
The red-robed Buddhist cleric, who fled his Himalayan homeland after a failed uprising against Chinese rule in 1959, travels the world to promote peace while sponsoring talks with China to resolve their longstanding dispute.
He said his representative was meeting Chinese officials for a fifth time on Wednesday, and that Tibet was "not seeking independence, separation from China" but "meaningful autonomy".
The Dalai Lama has no plans to meet with Israeli officials, who have mostly avoided seeing him during past visits to avoid upsetting the Jewish state's burgeoning ties with China.
He was invited by a local Israeli-Tibetan friendship league, and also plans to meet with Palestinians in the occupied West Bank town of Bethlehem.
Alongside his calls for peace, the Dalai Lama said it was "too early to say" whether Israel should agree to talk to Hamas, which is expected to head the next Palestinian government.
"I think first wait and see," the Dalai Lama said, adding that he thought Israel should respect the results of the Palestinian election. He also urged Hamas to eschew violence.
Hamas has masterminded nearly 60 suicide bombings against Israelis since a Palestinian uprising began in 2000, but has largely adhered to a truce declared last March.
But the Dalai Lama said he personally would be willing to meet with Hamas members when he holds talks with Palestinians this week. "If some Hamas people may join, then I'm happy to see them," he said.
TOP