The Dalai Lama Returns to Mount Scopus
News@HebrewU, February 20 2006
Tel Aviv, Israel -- His Holiness the 14th Dalai Lama, Tenzin Gyatso, visited the Hebrew University Sunday February 19, to present two lectures on Law and Compassion.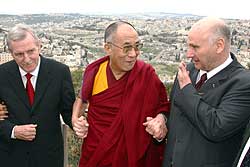 << His Holiness the 14th Dalai Lama with Prof. Magidor (right) and Chairman of the Board of Governors of the Hebrew University Yigal Arnon (left) (Photo: Sasson Tiram)
The Dalai Lama, who was made an Honorable Fellow of the University in 1994, addressed senior members of Israel's legal and social work communities, and Hebrew University academics and students in the two events, comprising more than 1,000 people.
Referring to himself as a ''simple Buddhist monk'', the Dalai Lama said that he was just one of six billion people on this planet. ''The future of humanity depends on our own behavior, action and our own humanity – each of us has the potential to make a contribution.'' Addressing the young people in the audience, the Dalai Lama said, ''A person's thinking can become fixed as he gets old. But young people are more open- minded. The young people can shape this planet, this 21st century. Whether this century becomes happier or more turbulent depends on you.''
Chairman of the University Board of Governors, Yigal Arnon, compared the Dalai Lama's teachings on compassion to the summation of the Torah by Rabbi Akiva: ''Do not do unto others what you would not have done unto you.''
''Despite all the different philosophies and religions that exist in the world, they all carry the same message of love and compassion,'' said the Dalai Lama. ''Compassion is the essence of all religions, the foundation of human society.''
A video-recording of the Dalai Lama's lecture at the Hebrew University may be viewed on the Hebrew University website.
TOP